Mountain Lakes, Rivers, Caves and Beauty Unsurpassed
Discover Northern Alabama
by Larry Larsen (c)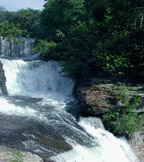 Northern Alabama is called "picture perfect" for a reason. Lying at the southern end of the Appalachian Mountain Range, its rocky peaks, wooded bluffs and beautiful rushing streams make for great photos. The Tennessee River tributaries cutting through the foothills and serene nature areas make this area an outdoorsman's heaven. Several major reservoirs in the 16-county region, offer unsurpassed smallmouth bass fishing and scenic boating.
On a recent trip to the area, I caught several of the "brown bass" while fishing with guide Barry Holt in Lake Pickwick. Holt, who runs the Tennessee River Guide Service out of Tuscumbia in northwest Alabama, also fishes for largemouth and crappie on nearby Lakes Wilson and Wheeler. The Shoals area lakes are a Mecca for anglers, particularly if you are after trophy smallmouth. Many knowledgeable anglers predict that the next world record will come from Pickwick one winter or early spring.
While I also took advantage of a few largemouth on Lake Wheeler, I couldn't pass up many of the other adventurous activities in the area stretching westward from Fort Payne to Tuscumbia and south to Hamilton. A tour of Dismals Canyon near Phil Campbell, Alabama was "enlightening". One of North Alabama's natural wonders, the canyon was supposedly a place where the Chickasaw Indians held their rituals. It was also a place where outlaws such as Jesse James hid among the shadows of the huge boulders, rock cliffs, waterfalls, tunnels and caves in one of America's oldest primeval forests.
What are really interesting besides the fantastic scenery on a mile long hike through the canyon are the namesakes – insects called Dissimilates. Just past twilight in the summertime, the canyon "lights up" with the tiny worms. There is no explanation for the Dismalites, but some say it is a kind of bright fungus, and it is only found in that prehistoric canyon.
I'm a "cave-nut", so I couldn't pass up the Cathedral Caverns, one of the nation's most magnificent. The 14-acre underground world, operated by the Alabama State Park system, has the world's largest stalagmite, stalagmite forest, cavern entrance and frozen waterfall. Evidence of human habitation in these limestone rock caves can be traced back 8,000 years. The state's newest state park, Cathedral Caverns is off Highway 72 near Grant.
There are many other places to visit and a hiker will fall in love with the region. The Natural Bridge comprised of sandstone and seams of iron ore is a 148 -foot bridge arch that towers 60 feet above winding pathways. Formed thousands of years ago by headward erosion of a tributary stream, it is reportedly the longest natural rock bridge east of the Rockies. Down the road a bit is the Bankhead National forest with its scenic waterfalls, springs, lakes and canyons.

Other places not to be missed on a jaunt through the Northern Alabama area are the Little River Canyon waterfalls near DeSoto State Park, and the Wheeler Wildlife Refuge Interpretive Center and Wildlife Observation Building. There's hiking trails, boat launches and bike trails at both places for the sports minded. Plenty of great "outdoorsy" accommodations exit in the region including Doublehead Resort at Town Creek, Joe Wheeler Resort Lodge and Convention Center at Rogersville, and the DeSoto State Park Lodge near Fort Payne.
Any outdoor adventurer can find interesting and fun activities in scenic Northern Alabama; the mountain lakes, rivers, caves and canyons offer unsurpassed enjoyment for all!
Editor's Note: For more information about this great outdoorsman's heaven or any of the "Picture Perfect" attractions or diversions mentioned above, contact the North Alabama Tourism Association at (800) 648-5381 or (256) 350-3500 or visit their website at www .northalabama.org. If you want to try for a trophy smallmouth, contact Barry Holt, Tennessee River Guide Service at (256) 383-7481 or send him an email at Bassnut306@aol.com. Click if you want help with lodging or flights.