Bass with an Attitude
By Lilliam and Larry Larsen
Anglers Inn and Lake El Salto is a Must Fish for a Bassin' Man (or Woman!).
Largemouth bass at El Salto have developed an attitude, and when they're hot, they're hot! Descendants of a Florida strain, through the years the bass in this man-made impoundment have staked out their territory and are the masters of the water. El Salto has developed a reputation for great bass fishing, and it deserves that reputation. Our recent stay at Billy Chapman Jr.'s Anglers Inn on Lake El Salto not only proved that even a novice angler (me) can catch largemouth, but that it can be done Mexican style - while drinking margaritas and enjoying daily siestas!
Anglers Inn is about 1 1/2 hours northeast of Mazatlan, a seaside city that is quickly becoming a competitor for tourism against the more popular destinations like Cabo San Lucas to the West and Puerto Vallarta to the South. Upon arrival at the international airport, we were met by staff from Anglers Inn and quickly transported with our luggage to the local Holiday Inn for a couple of nights. Our plan was to combine a day of offshore fishing off Mazatlan with the fabulous freshwater fishing of El Salto during our visit to Mexico.
The newly-renovated Holiday Inn is ideally located in Mazatlan's "Zona Dorada" (Golden Zone) . This means you are staying where the shopping is! Very elegant boutiques line the avenue; just watch your step as you're walking on the sidewalk, which frequently has "areas under repair." The boutiques have a variety of shopping items, from the inexpensive to the high-fashion names you would expect to find in New York or Los Angeles. However, the prices are definitely more affordable. It's not hard to return to your hotel with a couple of large shopping bags.
Our billfishing morning started early - by 7am we were on our way to the fishing grounds about 22 miles off
Mazatlan. We were on the Anglers Inn charter, "Aries III", a 28-foot Twin Diesel Bertram with many billfish to its name. Normally, I'm not real fond of offshore fishing. I'm an impatient angler, and if there's no action within a couple of hours, which is often when offshore fishing, I'm ready to head home. So I enjoyed the beautiful sunrise, ate a delicious chicken sandwich for breakfast (from a box lunch prepared by the marina as part of our trip) and napped while the boat headed to the fishing grounds. When we arrived at the spot, the mate put out four lines, and we trolled non-stop until nearly 2pm. For several hours, the mate occasionally changed baits with no success. The captain kept looking for action where there was none.
Finally, I decided to just sit in the fighting chair for a few minutes - and that's when the billfish hit! Quickly the mate handed me the rod and I began pulling in my first ever billfish - a beautiful 80 pound sailfish. He put up a bit of a fight, but he slowly came towards the boat. Our mate carefully held him while we took some pictures. He was the most beautiful sailfish ever!
Wow, what an exhilarating moment! It was only the second billfish caught that day by a fleet of 5 or 6 boats on the water, and we were able to successfully raise a flag indicating our success. I may have to give offshore fishing a second chance sometime soon…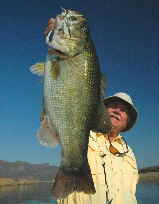 We returned to our hotel, but I was so excited about catching the sailfish that I didn't want to spend any more time than necessary in Mazatlan. I was ready for Anglers Inn! We departed for El Salto the following morning and arrived just after lunch, during everyone's siesta time. Margaritas, nachos and sandwiches were waiting for us, and we had time to unpack and get settled in before going out fishing in the afternoon.
Our guide, Oscar Lizarraga, greeted us that afternoon and we began the first fishing outing. Our trip in April was during the dry season and the water levels were down about 18 feet, which is normal in the spring/summer time. Even though the nearby hills were brown from lack of rain, it was beautiful and birds were plentiful, including bald eagle and osprey. This is always a good sign of fish!
In Florida, if lake levels are down, fishing is frequently better because the fish are concentrated and the lakes are fairly shallow in comparison to other States. However, on El Salto, this is not necessarily the case. Since El Salto is a man-made impoundment created primarily for irrigation, the lake depths can reach 50+ feet! Because of the low levels, the fish were deeper in the afternoons, at least 20 feet. Floridians are not accustomed to deep fishing for largemouth bass, and it is not easy! It requires patterns and lures that are specific for this type of fishing, and a lot more energy and patience. That afternoon, we fished from 3 pm until 6:30 pm and caught 35 fish.
Upon our return to the lodge, we showered and walked to the dining room for dinner at 8 pm. The lodge's meals are a group function, which gives everyone the opportunity to share experience and ask questions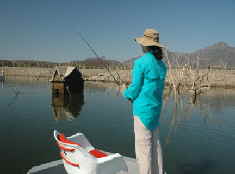 about their fishing success. We frequently shared information about the lure types and fishing patterns with the other fishermen, and everyone tried to learn from those who had been more successful that afternoon in order to apply similar techniques the following day. After a delicious meal, we retired for our first night.
The next morning we were up and ready by 5:30 am. We motored to our first fishing spot and began casting. I was after numbers of fish; Larry was after big fish (10 pounds or better). Soon, I started catching 2 or 3 pounders and losing them as I frequently did not set the hook hard enough.
"Set the hook, set the hook," our guide kept telling me. In my excitement, I would just pull the lure away from the fish. Finally, I started getting the hang of it and started bringing in some fish, 2 pounds, 3 pounds… and then my first big fish, a six pounder. That started the adrenalin going. At the end of the day, we had caught about 80 fish, with the six pounder the large fish of the day.
That record would not remain for very long, however. The next day we caught about 70 bass, but several were even larger. The five, six and seven pounders were more frequent, and we thought that Larry's 8-pounder that day was going to be the big fish of the boat. However, to our surprise, in the afternoon I caught my biggest bass ever, a 9-pounder and just a few minutes later, Larry caught his first 10-pounder of the week! On our third and final day of fishing, we explored more areas of the impoundment and Larry caught a second 10 pounder.
First Class Anglers Inn
There is no doubt that the fishing is excellent on El Salto, but I think that the entire experience would not be the same if Billy Chapman, Jr.'s Anglers Inn wasn't such a comfortable, classy place. We are used to roughing it when we travel to remote destinations, and Anglers Inn is definitely remote. But there's nothing rough about it. The management team led by Billy Jr. and his son Chappy, and their service is top notch - at every turn, we were being helped with our bags, tackle boxes, drinks, etc.
The food is incredible, and what you might expect at a five-star restaurant. Not only is it delicious, the

presentation is unique. One night we had sirloin cooked to order, another night it was giant shrimp and beef in a deep "fajita" dish. Breakfast each morning was a buffet of eggs, bacon, toast, cereal and pancakes, in enough quantities to feed a small army of fishermen. Hot lunches were lighter but just as excellent, and always accompanied by a Margarita (of course) to help digestion! Taking a 2-hour nap did not affect the ability to sleep well at night. Fishing all day is tiring! At least, that was my excuse. And if you are really tired and have aching muscles, their expert masseuse is available to give you a relaxing rubdown!
A variety of accommodations and packages are available to help your budget. As unexpected as the excellent food and comfortable accommodations were the dozen Harley Davidsons at the lodge. Anglers Inn is also home to "Steel Thunder Outfitters." Bikers can
select from a variety of packages to tour the back roads of the Sierra Madre Mountains. Definitely a unique and different perspective for visiting Mexico!
If you call yourself a bass fisherman, you have to add El Salto to your list of places to fish. Chances are you will not be disappointed. You will leave with a few more pounds to your tally…and I don't mean only from the bass fishing!
Getting to the Inn
Several airlines fly directly from Houston to Mazatlan. For reservations and information on Anglers Inn at El Salto, call 1-800-GOTA FISH (1-800-468-2347). Their expert reservations staff will personally handle your requests and are happy to answer any questions you may have about the lake, the lodge and the trip planning details. Their website is frequently updated with fishing reports, special packages, weather information, etc., so visit www.anglersinn.com .