Fishing Function and Fun For Singles!
By Larry Larsen
Want to add a little more fun and adventure to your fishing? I suggest then that you mount an AquaQuad CLX and take off after the biggest fish in the lake or rivers you are fishing.
The CLX (Classic Extreme Sport) looks something like a wide jet ski to many and they weigh about half as much – only around 165 pounds plus the outboard motor weight. The rigid, inflatable pontoon boats with a 5-foot, 4-inch beam are much more stable and nimble that a jet ski, and they provide anglers with a neat forward casting platform that is just a foot and a half off the water. The small, easy-to-operate 11-foot long CLX boats with the sport fishing package are designed for affordable fishing and fun on the water and do they provide it … with a dry ride!
The personal-size craft has the ability to go almost anywhere … through small creeks, wind -blown channels, shallow, rock-strewn lakes, pasture ponds, inter-coastal swamps, large vegetation beds, log-infested remote waters, sand flats, etc. and they can be easily launched even in areas without the best boat ramps. The stability of theboat allows a single occupant to safely stand and fish 180 degrees port to starboard from the front "platform" or either side from which you want to cast a line. There is a small fishing (or resting) seat in front of the console.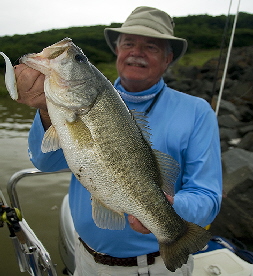 Safety features abound on the trimaran hull CLX such as protective GRP skids on underside of the pontoons, bow rails, a roll bar, boarding rails, a rough non-slip surface interior in the foot wells and forward platform and handle bar steering (1:1 ratio) with twist-grip throttle. The boat, which can accommodate up to two adults on the long, padded seat and is rated for 20-30 hp outboards (approximate 190 pound weight maximum), also features under seat storage, a bait and tackle station at the stern and deck-mounted fishing rod holders. Even with a 30-hp Honda SRTD, fuel consumption is not too bad. The mpg at 1,000 rpms is about 19 and at 5,000 rpms, fuel usage is just less than 12 mpg.
The one-to-one ratio steering system is very interactive and intuitive and is similar to driving a motor bike. You can even drive it short distances from the bow casting seat. The CLX that I tested for a few days had trim and tilt and a kill switch which are both important to personal watercraft "jockeys." AquaQuad offers an extensive list of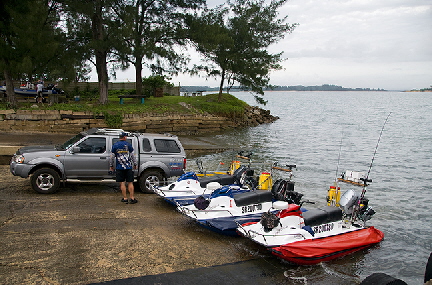 factory accessories (or dealer or owner retrofit). They include easy access "clip-on" fishing bags for storing rod and reel outfits, collapsible nets and for anglers offshore, gaffs and fish to eat and even a live bait system!
The AquaQuad Company, which offers two other boat models, was founded in Durban South Africa by Oliver Nudds in April of 2003. The CLX model was launched in 2008, and AquaQuad started selling their boats in the U.S. in April 2012. For more information, contact: AquaQuad Boats, phone +27 31 701 6106(or US phone: 1-352-216-1902), www.aquaquad.com or Email: usa@aquaquad.com or info@aquaquad.com.