Bok Tower Gardens, Central Florida
A quiet, inspirational side of Florida
By Lilliam and Larry Larsen
The high energy attractions of Central Florida sometimes makes us forget that there is a very nice, peaceful side to the state's historical attractions. Just 45 minutes from Orlando and 10 minutes from Legoland is Bok Tower Gardens, listed in the National Register of Historic Places. Snuggled into huge Oak forest high atop one of Florida's highest elevations near Lake Wales is the tranquil yet inspirational place offering a unique ambiance seldom found within the Sunshine state's numerous attractions.
Visitors are greeted by a detailed exhibit area describing the construction of the gardens' centerpiece - a 205-foot tall tower. Built of beautiful coquina stone and pink and gray marble, it features sculpted finials, balconies, an arched entranceway, and elaborately carved screens, friezes, tiles, metalwork and a sundial. The "singing tower" is home to a carillon - 60 different bells ranging in weight from 16 pounds to nearly 12 tons. The visitors' center has interesting photos of its construction in Loughborough, England, and its installation at Bok Tower.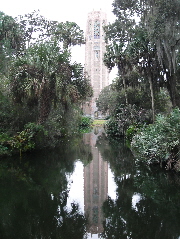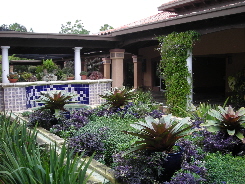 Strolling through the 7 acres of tropical gardens, it's easy to see why this location brimming with the wellness influences of nature would be a favorite of weddings and other special private events. A variety of flora growing to impressive heights allows visitors to "soak up" the tranquil environment. Coy ponds sprinkled about the hilltop and a variety of small wildlife skirting about the grassy grounds add to this enjoyment of nature.
For a small additional fee, visitors can also tour the beautiful Pinewood Estate , an enchanting 20-room Mediterranean-style mansion built in the early 1930s for Charles Austin Buck, a Bethlehem Steel vice president. The 12,900 square foot estate is a favorite during seasonal events like Christmas and Easter when special decorations highlight its opulence and splendor.
Bok Tower Gardens is open 365 days a year from 8 am to 6 pm. The Visitor Center, Blue Palmetto Café and Tower & Garden Gift Shop are open from 9 am to 5 pm with limited hours on holidays. General admission is $12 for adults and $3 for children ages 5 to 12. During Christmas, fees are $20 for adults and $9 for children ages 5-12, which includes admission to the Pinewood Estates.
For more details, visit www.boktowergardens.org or phone (863) 676-1408.