Cape Horn, Glaciers, Trout & Penguins
A cool cruise around the southern tip of South America begins with a Princess
By Larry Larsen
Tracing the path of Magellan through the most dangerous seas in the world around the most desolate reaches of southernmost South America is not easily forgotten. While exploring seafarers met with the same hurricane (Force 12) winds that we did, our vessel was extremely sea worthy and our course well charted. State of the art navigation aids allowed us to forge ahead into seas with swells 20 to 30 feet high as we circumnavigated around Cape Horn.
Our cruise on the Royal Princess in early December of 2000 was truly a cruise to the furthest reaches of the world. The two week itinerary began in Buenos Aires, Argentina and stopped in Montevideo, Uruguay; Puerto Madryn, Argentina; the Falkland Islands (or Islas Malvinas if speaking with Argentinians); and then "cruised" by Cape Horn and stopped in Ushuaia, Argentina on Tierra del Fuego. We continued cruising the Beagle Channel and Straits of Magellan to Puenta Arenas, Chile and northward to Puerto Montt, ending in Valparaiso, Chile.
Some of the highlights throughout the two-week itinerary included glaciers, trout fishing, dormant volcanoes, waterfalls, penguins and sea lion rookeries, museums, and scenic, quaint towns with obvious European heritage. However, while we tried to research many of these destinations in advance, we found little information that could help us to make clear choices of shore excursion activities. An overview of our experiences portside and resulting recommendations could help others who trace Magellan's path and follow in our "footsteps". If you speak Spanish, you have many more opportunities to do things on your own.
Buenos Aires
Reception after an overnight flight is very organized with Princess Cruise staff easily visible at the airport. Charter buses took us to a lakefront restaurant near downtown where refreshments were served while we awaited the time to board the ship. The Royal Princess was nearly full with almost 1200 passengers and showed its 16 years of age primarily in its design.
Montevideo
Because of our weekend visitation, most businesses were closed in the Uruguay capital. One leather goods store offered free transportation to/from the docks. We shopped at the store and then walked to the nearby downtown square. The colonial architecture of historic old Montevideo showcases its European history and it would have been interesting if the Legislative Palace, museums and other interesting venues had been open. We were asked to be cautious of where we walked, so we stayed on main streets and well traveled boulevard as we walked back to the ship. We were glad we did not take a scheduled tour that basically covered the same areas we visited on our own.
Puerto Madryn
This port on the eastern plains of Patagonia is definitely one where you either stay on the ship or take a scheduled tour. We selected the trip which included a brief visit to a sea lion colony at Punta Loma and then to the Paleontological Museum at the city of Trelew 40 miles to the south. We were impressed with the museum and its collections of fossils, dinosaur bones and other extinct animals that inhabited the Patagonia area of Argentina 300 million years ago. Our guide spoke very good English and gave a great overview of the museums and its collection. A small, interesting shop at the museum is a good place for souvenirs.
Falkland Islands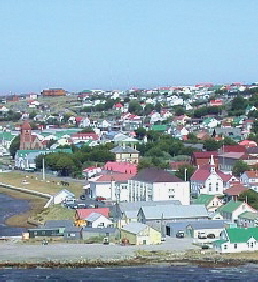 The British-flavored Falkland Islands are an interesting, if desolate, place to visit. Stanley, the friendly capital, is colorful. Depending on weather, this can be an enjoyable or a miserable visit. We were fortunate that it was a sunny, breezy day and we enjoyed taking a taxi to a nearby penguin colony at rugged Gypsy Cove where the birds were frolicking on the beach and enjoying their shoreside burrows. We then walked through the small town. An interesting spot is the military mine disposal office where authentic signs "beware of mines" (an aftermath of the war of 1982) are available to visitors for a donation. Also, there is a golf course on the island and numerous pubs for those who would like to explore other options. The memorial to the fallen British soldiers during the war with Argentina is within walking distance. Visiting the wind-whipped, treeless landscape is definitely something that you can do economically on your own, unless you feel more comfortable in a bus going with a large group.
Cape Horn/Ushuaia
Throughout the itinerary we were fortunate to have very good weather. Heading southwest in the Atlantic towards Cape Horn and the Drake Passage, we encountered the worst weather: near hurricane-force 60+ knot gale and 20 to 30 foot seas. Well, it's all part of the experience! For its size, the ship was very comfortable and most passengers were enjoying the activities and meals without any trouble. The Captain broadcast frequent updates on the weather conditions and , thankfully, towards late afternoon the winds had lightened enough for the Princess to navigate around the tip of South America.
We wished we could have spent more time in the world's most southernmost town, Ushuaia. It's located on Tierra del Fuego (Land of Fire), renown for craggy, wind -swept terrain. While the ship has some excellent tours here, we recommend you try to do some of it on your own. Several ski resorts, excellent shopping and beautiful scenery can be found by hiring a taxi for the day at a very nominal cost. We had opted for a bus tour, which took us to Garibaldi Pass, the highest point over the Andes Mountains in that area. But we also had to spend too much time with five bus loads of cruise ship passengers crammed into a lakefront restaurant, time we could have used touring or trekking in the mountains or in town visiting other locations of interest.
Punta Arenas
Another Sunday arrival meant much of the town was clos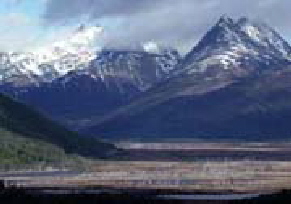 ed. There is a duty free mall a short distance from the cruise terminal that opens at noon until 7 pm, even on Sundays. The ship offers a round trip shuttle to downtown for $4 per person; however, taxis are about 50 cents per person one way . Open on Sundays (and free) is the Braun house, which offers a very interesting view of life for a wealthy family in Patagonia in the early 1900's. Very well restored and with a brochure in English, you can easily do a self-tour in about an hour. The cemetery near downtown is also an interesting historical site . The town and surrounding area is surprisingly flat. The most scenic tour here is a multi-day overland visit to the mountainous Torres del Paine National Park, but that option on our trip was cancelled due to lack of participants.
Puerto Montt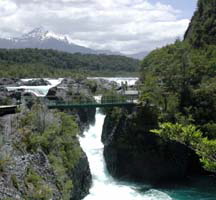 Our real "activities" highlight took place when we arrived at Chile's Lake District and Puerto Montt. (See A Chile Day of Fly Fishing article details of our scenic tour and great trout fishing action.) There are several mountain-rimmed lakes and two snow-capped volcanoes to enjoy at the edge of the Andes. One "don't miss" spot in the picturesque countryside for all visitors is the magnificent Petrohue Falls. A series of catwalks and stone steps take visitors to the edges of the falls adjacent a backdrop of mountain cliffs, massive boulders, roaring rapids and plunging falls. Several shore excursions include a visit here, and it is perhaps the main scenic highlight of most cruise ship passengers. It is definitely worth doing!
Valparaiso/Santiago/Return Home
Upon arrival in Valparaiso we selected one of the day tours, with visits to several museums and a lunch stop at a seacoast restaurant. Certainly the drive around the resort towns of Valparaiso and the more modern Viņa del Mar with their cable cars, tiered city plans and sea views were interesting, although unfortunately the museums were old and required extensive maintenance. Lunch was excellent, a three-course meal with wine and a taste of the local drink "pisco sour". We then drove the two hours to Santiago. Upon arrival at the airport, we found our suitcases were already loaded on individual carts! This was the most efficient cruise luggage service that we have experienced to date.
Our Days at Sea
The beautiful scenery along the Beagle Channel (named after Charles Darwin's ship) and the Inside Passage of Chile is similar to Alaska. We enjoyed the snow peaked mountain views, including several glaciers and ice fields, and the peace and tranquility of the area as the ship slowly sailed through the narrow passageways. Cruising the fjords of southern Chile can offer some exciting vistas when the weather cooperates. A couple of our days cruising by the glacial ice flows to the famous Seņo Eyre Fjord and the Pio XI glacier were overcast with sporadic light rain. Low-hanging clouds, damp, cool and drizzly conditions are typical of this desolate, "lonely" region.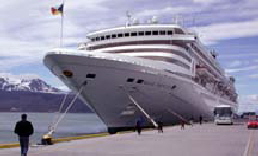 The Royal Princess certainly scheduled enough activities aboard during the day, from line dance classes to bingo, wine tastings, new movies each day and nightly entertainment, trivia contests twice a day, huge puzzles, golf, shuffleboard, ping pong and of course, the casino. The library was fully stocked with books and games, and offered internet e-mail service for a fee. There was one room reserved for bridge games, which became a serious activity for many passengers as the days went by. The lectures were fairly entertaining, with some speakers more interesting than others. Joe May, the port lecturer, provided quality information on the Chilean, Argentinean and Uruguayan ports. The cabins TVs also have CNN and a couple of movie channels. For hearty souls, the ship had a lap pool, spa and two smaller pools on the Lido Deck.
Ship, Service and Food Evaluations
For many of the staff, this was the first time on this particular itinerary. The itinerary is probably not ideal for honeymooners or young families because of time and expenses involved.
All cabins are outside staterooms on the Royal Princess, and although they are smaller in comparison to newer ships, they're adequate in size and include a small refrigerator. The bathrooms included a shower/bathtub, hair dryer and ample medicine cabinet. We were pleased with our balcony room's location – A461. Two twin beds were joined to form a queen size bed, however, this forced us to climb over a corner of the bed to access the verandah. The safe was small, very small.
Our cabin steward, while he did a good job, did not go out of his way to find out if we needed anything. For example, one of the vents was directly over the bed, which was very uncomfortable. To diffuse the air, we placed a piece of cardboard over it. At no time in the two weeks did he ask if we wanted the vent turned down or shut off. However, we heard accolades of other more helpful cabin stewards, so it is all the luck of the draw.
We were seated at a table for six with two other couples that had already been on the ship for three weeks since it departed Rome for its relocation to South America. We were fortunate that both couples were enjoyable and great dining companions. After all, two weeks can be a long time if you are not seated with people you enjoy. Our dining room staff was friendly and we received good service. Robert, our excellent waiter, and his assistant Yves served 16 people at each seating. The menus were not as varied as on other ships, primarily due to the far-flung destinations and difficulty in stocking food. Overall, we both felt that the food quality aboard the Royal Princess was not as good as on our previous cruises aboard the Dawn Princess and on other cruise lines, particularly in the Lido Restaurant.
We recommend this cruise to experienced travelers who enjoy a lot of time at sea, visiting little-known destinations and can afford the price tag. It's worthwhile to say you have cruised Cape Horn!