Caribbean Celebrity Golf Cruising
There are few vacations that are more enjoyable than a relaxing cruise. Combined with my favorite sport, golf, I can't think of a better way to spend a week basking in the Southern Caribbean Sun.
We decided to schedule some golfing while cruising on Celebrity Cruises' luxury ship, the Constellation, which celebrated its first full year May 2003. While the Celebrity Golf Package schedule seemed inviting – five golf courses on a six-island itinerary, we sampled the courses on our own on two of the islands. In addition, the activity-rich ship has its own golf pro, who schedules lessons in a golf simulator and is available to help with a "hassle-free" golf schedule. For those who want to golf only once or twice, the ship rents Callaways for men and women.
We met Guy Ougram, the golf pro, on our first day. He has been working aboard the Constellation for six months but has also been the pro on Celebrity's Galaxy and Century. Originally from Great Britain, Guy has a degree in Golf Management and as a Teaching Professional from San Diego's School of Golf. He oversees the Golf Package that Celebrity offers Constellation guests.
Our first stop was the Dominican Republic's beautiful Casa de Campo Resort. This is a new stop for the Constellation, which offers non-golfers a half-day of beach activities on Catalina Island and then the afternoon shopping at magnificent Altos de Chavon, a scenic shopping village in Casa de Campo featuring unique arts and crafts shops and museums, excellent restaurants and a magnificent view of the Chavon River below. An evening show, Kandela, is also frequently scheduled in a spectacular outdoor amphitheater.
Golfers are taken by charter boat to Casa de Campo to play the famous "Teeth of the Dog" course. Playing this course on Day One is an excellent beginning to any golf cruise, but it does set an extremely high "standard"! Ranked one of the top courses in the world, the Pete Dye-designed course features 7 holes bordering the Atlantic Ocean. The layout is surprisingly forgiving from the red tees (4779 yds). Longer carries over rough and water make it significantly more challenging from the white (5,914 yds), blue (6,630 yds) or gold (6,989 yds) tees.
The Teeth of the Dog fairways are fairly wide open, but the difficulties lie around the greens where strategic placement of bunkers and fast greens can create havoc. A good short game is definitely required to avoid trouble. In April 2003, Casa de Campo also inaugurated a new Pete Dye course called the Dye Fore. This course is rumored to rival Teeth of the Dog in beauty and challenge. Our visit a couple of days prior to its Grand Opening seems to confirm such boasts. This beautiful course features nine holes bordering the tall cliffs overlooking the scenic Chavon River. Its length of over 7,800 yards is significantly longer than Teeth's 6,989 from the gold tees and it is irrigated with saltwater instead of freshwater due to a new saltwater-resistant grass that is being employed.
Throughout its layout, Dye Fore has spectacular views of the Caribbean Sea, the mountains, the Chavon River and the Altos de Chavon village, according to Director of Golf, Gilles Gagnon. With the addition of Dye Fore, Casa de Campo now offers three professional, 18-hole layouts for avid golfers. The Links, a 6,602-yard course, is also included in the resort's "Completely GOLF" packages for those with the time to spend a few days on property, or like us, with the desire to return to experience all three courses and the resort's complete amenities.
While we played golf, the Celebrity Constellation relocated from the nearby private Catalina Island to the river port dock on the main island of Dominican Republic, not far from Casa de Campo. This anchorage allows for easy return to the ship to change clothes and then return to Altos de Chavon. As an option, golfers can take a change of clothes and shower in one of two Casa de Campo course's locker rooms.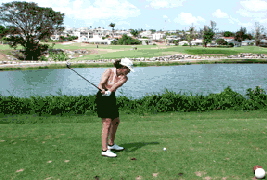 Our next scheduled golf was at the Barbados Golf Club on that beautiful island. Cruise passengers can easily take one of the taxis outside the terminal for the 15-minute ride to the course. Redesigned in 2000, the Barbados G.C. recently attracted a professional European tournament. This part of the Caribbean is typically drier and very windy. Both conditions can affect the playability of the course. In this instance, the fairways were indeed very dry which hardened them to such an extent we thought we were hitting from hard clay in some instances. The greens and the tee boxes were in surprisingly good shape.
The course was more challenging than we thought; total length from the gold tees is 6,697 yards. Elevated tees and greens provided a unique design as we continually played against or in favor of the prevailing winds. The hilly fairways proved challenging and provided interesting views overall. The course scenery, however, could be enhanced if the buffer zone between the course and the housing, which surrounds some of the fairways, would have more shrubbery plantings. The 18th hole, a par 5 with beautiful lake at the green, is deceivingly difficult and one to be remembered!
In high contrast to the dry conditions on Barbados golf courses, many links in St. Lucia are very lush with tropical foliage and flowers everywhere, according to Guy.
"The Cap Estate Golf Course (also known as the St. Lucia Golf & Country Club) has a long front nine and short back nine with a nice variety of holes, " he explains. "It is definitely one of the prettiest golf courses in the Caribbean." With a length of 6,813 from the blue tees, all the par 5s are on the front nine. Water comes into play in 10 holes, so bring some water balls. And have a hearty breakfast -- the par 4s on the back nine are all over 400 yards!
If golfers want to take a break, Guy suggests that Antigua may be the island to do so. "Antigua is perfect for the golfer who is not too concerned with quality of the course but wants to take the opportunity to practice," explains Guy. "This is a private course, and it may not be as memorable as others in the Caribbean, but it's a perfect course to take your time and practice a variety of shots, or for the beginner or less experienced golfer to enjoy. No pressure!"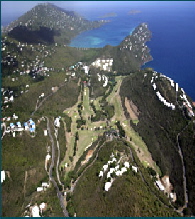 A nice but challenging ending to the Celebrity Constellation's five-course golf schedule cruise is Mahogany Run in St. Thomas. Designed by George and Tom Fazio, this USVI golf course is seemingly easy at first. Only 6,022 yards from the back tees, most golfers underestimate the challenge. It takes only a few holes to change that mindset, though. Mahogany Run is famous for the "Devil's Triangle," three holes that border the ocean and can be a challenge all by themselves. A par 4, par 3 and par 5 consecutively, it is wise to have several "water balls" in your bag.
For additional information/booking on Celebrity Cruises, click here!. For information on Casa de Campo and/or Teeth of The Dog and Dye Four courses, call 800-877-3643 or visit www.casadecampo.cc. Additional details on individual golf courses can be found for Barbados Golf Course at www .barbadosgolfclub.com, St. Lucia at www.stluciagolf.com and for Mahogany Run in St. Thomas at www.mahoganyrungolf.com.