Cruising Ft. Lauderdale Waterways
Florida's "Venice" – Quaint & Unique "Culture"
By Larry Larsen
Claims from tourism officials in the states are often verbose or "slightly" exaggerated, but sunny Ft. Lauderdale calling itself the "Venice of America" is one that easily deserves that
description. On a recent trip to the Southeast coast, this Floridian transplant was … well surprised at all of the activity along its beautiful canals and harbors.
A lot has taken place in the last 10 to 15 years to bring this classy oceanfront city from a several mile long beach destination for spring break party collegians to a grander, unique and quaint attraction spreading throughout the city and even nearby Broward County suburbs. The Greater Ft. Lauderdale destination now easily appeals to all ages of tourists with a variety of adventure interests.
To get a great overview of the terrain, a water taxi is definitely the way to go; you can buy an unlimited boarding ticket that allows you to get on and off all day long from the 12 to 16 stops that most make. Keep in mind that these "taxis" are really "tours" with the driver and perhaps crew member providing commentary on what you are seeing and/or the history of what went on in a particular mansion or building.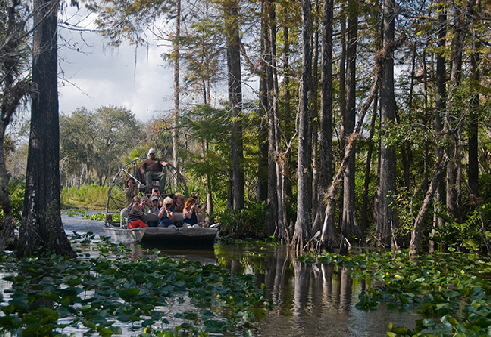 Grab a map showing the Northern Loop and Hollywood Routes so that you know the Whistle Stops and then go exploring. In the narrated tour, you'll learn about the most expensive home along the waterway and about which celebrities own (or owned) which mansions. You will find out what super rich people built outlandish homes on the canals and Intracoastal for various family members and about the famous bridge that separates the Millionaire's Row from the Billionaires Row. You also see the numerous million-dollar-plus yachts that sit idle behind many of those abodes much of the time.
Nearby are plenty of adventures such as Everglades tours and safaris, airboat rides, alligator tours, and swamp buggy tours. Also the interesting Seminole village tour and the Ah-Tah-Thi-Ki Museum (that goes into great detail about the Indian tribe that moved into the glades centuries ago) is an attraction that should not be missed.
Of course, there are a variety of boating activities in and around the beach areas and inland waters including reef snorkeling and cruises on craft ranging from amphibious vehicles (duck boats) to riverboats to water trollies and pontoon boat water taxis, to catamarans to sailing boats to luxury mega -yachts. And yes, authentic gondola tours add to the "Venice" theme. Ft. Lauderdale has one of the world's largest and best boat shows each fall and about the same number of mansions as luxurious yachts. If you can't boat in or drive in (you don't need a Bentley) to town, there is an international airport that's handy.
For those visitors more sedentary in their pursuits, there are over 90 parks and public beaches to experience and "culture" venues such as museums, theaters, opera, and art galleries. The famous strip is Las Olas Boulevard which has over 30 eateries, many with sidewalk tables, and twice as many unique shops. Of course, there are bars and night clubs along the way for those wanting to whet their whistles. Water taxis pick up and drop passengers at a couple of convenient nearby spots.
Several great accommodations throughout the city have water taxis near their back door. Few cities in this country have a "water culture", but Ft. Lauderdale is one and it has few peers. Also, that's the kind of culture that interests me most!
The Westin Beach Resort & Spa with its oceanfront access and convenience to the interconnected waterways is an ideal place to bed down. Check out www.westinftlauderdalebeach.com to find out more. For information on the water taxis, visit watertaxi.com or phone 954-467-6677. For other info on fun things to do, contact the Greater Fort Lauderdale Convention & Visitors Bureau at 954-765-4466, toll free 800-22-SUNNY or visit their Sunny.org website.