Jungle Golf at its Best - Panama's Summit Golf Course
Summit Golf Course is a world class championship golf facility located just off the east bank of the Panama Canal, on Gaillard Highway, just 15 minutes from Gamboa Rainforest Resort and about 45 minutes from the capital city of Panama.
This course can drive you mad and make you crazy. It's beautiful and deceivingly difficult. But it is definitely a first class golf course, with wide fairways and rolling greens sculptured into the hillside of the historic Panama Canal. Greens, fairways and tee boxes are bordered by unique flora not seen anywhere else in the world and the surroundings are flourishing with abundant wildlife.
You'll definitely want to keep your eyes open for the wildlife! On one hole, I walked towards my ball, adjacent to a pond, to find a small crocodile with mouth wide open, critically judging my stance just two feet away. As soon as our eyes met, the croc quickly slid into the water. After some heavy showers the previous day, the course was a tough play and I was in no mood to be judged!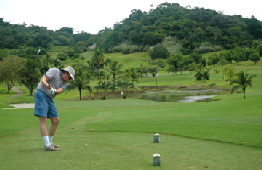 Most golfers would not typically choose to play a round on a golf course that receives daily rain showers. Who wants to plod around muddy fairways and deal with the inevitable flopped shots and mud-wrapped balls? However, a golf course adjacent to a jungle wildlife reserve in one of the world's last rain forests has to keep these wet conditions in mind and design greens, tees and fairways with effective drainage.
During Panama's rainy season, this area can receive several inches of rain on a daily basis. Most golf courses in the U.S. would either be closed or require cart-paths only under similar conditions. However, the challenge at Summit Golf course is not the rain, but the various built-in drainage designs throughout its 18 holes. Nearly every fairway has concrete culverts and French drains bordering the cart paths. Large drainage ditches, which we may call creeks in the U.S., cut across nearly every fairway throughout the 18 holes. Many of them are cleverly hidden to the first-time golfer unfamiliar with the layout, like me.
The pretty course is a 6,626 yard, par 72 championship course designed by noted American golf course architect Jeffrey Myers. Some of his course designs include Laurel Oak Country Club in Sarasota, FL, The Links at Shirley, Shirley, NY, Hilton Head National in Bluffton, SC and Baytree National in Melbourne, FL. Originally built in the 1930's, it was redesigned in the 1960s to include four tee boxes, generous landing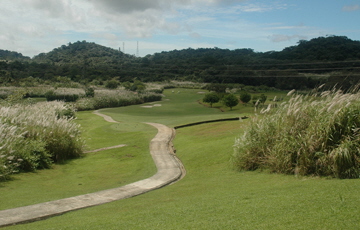 areas and moderately contoured putting surfaces. The facility also features a full service practice and a six-hole par three course for kids. The greens are Tifdwarf Bermuda grass and the course is maintained in very good condition. The course has hosted the Tour of the Americas and the European Tour but no additional information on when these tournaments were held here was available.
Many of the carts include a GPS system (Pro Shot System). We would highly recommend requesting a cart with this helpful tool to help you through the course and describe the critical distance. Most importantly, the GPS provides tips on avoiding those hidden challenges mentioned earlier.
From the blue tees, the scorecard length is a 6,880-yard, par 72 layout. From the red tees, players are challenged by 4,791 yards and a par of 67.9. If you think you will not be challenged, try reading some of the local rules on the score card. On the first hole, the water drain located on the back side of the green is considered an immovable obstruction and you can replace the ball with no penalty. A ball plugged anywhere through a green, except when out of bounds, may be lifted, cleaned and dropped without penalty.
It will take most players around 5 hours to play a decent round at Summit Golf Course. Tee times are definitely recommended, with Saturday being the busiest day and Monday being the slowest. The course is sometimes closed on Mondays during the slow season.
After a round, enjoy excellent food and drink at the clubhouse's RainForest Restaurant or Mulligan's Sports Bar. For more information, visit their website at www.summitgolfpanama.com or e mail info@summitgolfpanama.com.