Iceland Adventurer Arni Baldursson
By Larry Larsen
Arni Baldursson, who has signed agreements for permits to over 30 percent of the 120 salmon rivers in Iceland , is often called "Mr. Salmon". Today, the tall, blond Viking owns Anglers Club Lax-A, one of the largest fishing tour (outfitting) operations in a country that is famous as a Mecca for Atlantic salmon fishing. But his adventurous journey to the top did not happen overnight. He was 24 years old back in 1987 and newly married when he was "strongly encouraged" by his mother-in-law to make something of himself.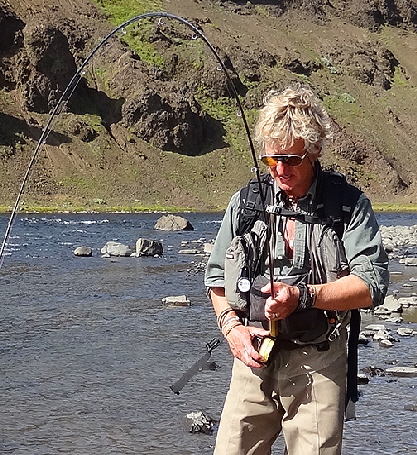 "I got a lot of grief from her because I was not working," he explains. 'You are always fishing,' she would tell me, adding 'you are useless. You need to get a job so that you can support my daughter'."
So, he decided to start a fishing outfitting business at the same time that the lease on one of the best waters in Iceland (Laxa Kjosum) came onto the market. While he did not even have one dollar in his pocket, he took a big risk and secretly put a half million dollar bid toward the lease. He claimed to have a good feeling about winning the bid. Many offers did come in, according to Arni, but he had the highest offer.
"The farm owner (lease holder) called to congratulate me on my winning bid and said, 'Now we need the half million dollars. Can you bring it to us to settle the deal?'
"What should I do? I have no money," he said to himself. "So I decided to go to a list of the wealthiest people in Iceland and offer them a 'business opportunity'. I met with them, put the outfitting plan on the table and they loved the idea, even though they did not fish at all. We established the company Lax-A, and I owned 1/3 and they owned 2/3."
Their company had the best start ever because the year turned out to be the best ever for fishing on that river . Lax-A anglers caught over 3,000 fish, so it was very profitable for the three men. At the end of the season, the two investors called and asked Arni to bring the profits down so that they could split it up.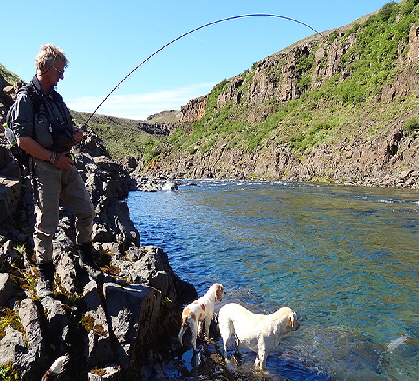 "When I got there, they asked me to put the money on the floor, and they said whoever can grab the most, can keep it," Mr. Salmon laughs. "Well I was the youngest so I was able to grab the most money. And they said that I could keep it."
For six years, the company partnership continued to grow and do well and Lax-A added leases to several new rivers. Then one day, the partners called and said to Arni, "Young man, we now have a business proposal for you. We have supported you now for six years, and we have decided to pull out so you are by yourself. The company is yours, but you have you buy our 66 percent out."
"I did not have the money, so I asked how much they wanted for it," says Arni. "They said, 'One cent each, so basically, they gave it to me in 1993."
Soon afterwards, the outfitter decided to add other fishing programs including accommodations and transportation packages in South America, and then Russia, Norway, Scotland and other countries where they were able to establish leases. Today, his company is fully international but based in Iceland. They have 14 employees in their Reykjavik office and about 50 guides in the field throughout Iceland alone. Currently, about 80 percent of all Lax-A's offerings are in Iceland, and Arni has approximately 60 additional people looking after the various fishing lodges scattered around the country.
"I went international because it was my own fishing (and adventure) passion," he fully admits. "Outfitting can be the most difficult business in the world but it's my passion. During my busiest times, I may send 100 anglers to Argentina and maybe 150 to Russia, along with what may be typically over 1,500 clients coming to Iceland each year. But the idea was to make a business so that I could fish. Now, I can tell my mother-in-law that I'm making income for her daughter!"
For more information on the Angling Club Lax-A guides, day-tour or week-long services and accommodation options, visit www.lax-a.net or email lax-a@lax-a.net