Smoky Mountains' Best Kept Secret
Lake Fontana Wilds
By Larry and Lilliam Larsen
Pick your favorite outdoors activity and then head towards the Lake Fontana region of the Smoky Mountains where you very likely will find it. Sometimes it's easy to forget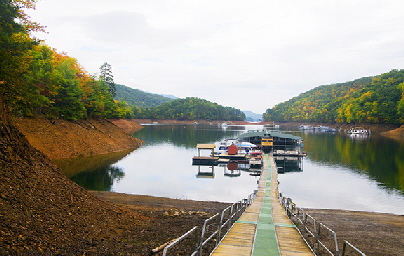 that there are beautiful natural attractions like the Smoky Mountains within an easy drive of most of the Southeastern United States. On our recent "road trip", we explored what we could squeeze in over five days and we still yearned for more time to discover more of the hidden gems.
We based out of a very remote resort beside Lake Fontana called appropriately Fontana Village. It is located high in the Smoky Mountains, miles from any town or city a visitor from outside of Graham County had heard of. The mountain road into the resort runs an Appalachian ridgeline that winds from one curve to another offering only a few scenic pull offs where one can overlook the lake and surrounding mountains. In fact, one section, called The Tail of the Dragon, is notorious for its 318 contiguous curves along an 11 miles stretch tying Western North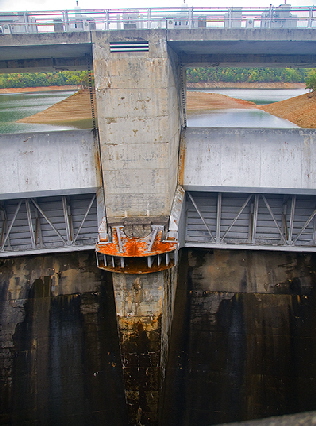 Carolina with East Tennessee. This challenging road is world-famous and it attracts sports cars and motorcycles that may not be concerned with a 30 mph speed limit.
The Fontana Village lodge building with its high ceilings and a huge fireplace in the middle of the lobby is the introduction to a comfortable albeit remote resort with inspiring views of the wonderful topography. Guests can opt for lodge rooms or cabins that are sprinkled throughout the mountain area. There's a general store, modern amenities, good food in their restaurant, hiking trails, a campground, a marina, and much more to the resort that was built in a tiny mountain community logging setting.
Just a short drive down the hill through a canopy of woods lies Fontana Dam and Lake Fontana. Everyone visiting this area should drive to the 480-foot high Fontana Dam, a massive World War II project which is the United States' highest concrete dam east of the Rocky Mountains. We enjoyed touring the interesting visitors' center which is open to the public between May and October. The 29-mile-long Lake Fontana offers some of the most pristine areas within the Smokies with over 90% of its shoreline undeveloped. Rent a boat to fish or stay in one of several rental houseboats for something different. You can also go on a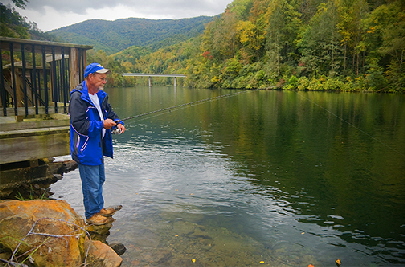 scenic lake tour on a very comfortable pontoon boat, as Lilliam did. Despite the rainy weather, our guide was extremely knowledgeable and helped us to appreciate the area's history and learn more about the original settlers of historic Hazel Creek.
Lake Fontana is one of four lakes in Graham County which has mountains ranging in elevation from 1,200 to nearly 6,000 feet. Area streams are rated among the most popular in Western North Carolina for fly fishing, and a delayed harvest program, which adds thousands of trout to Big Snowbird Creek each fall. Whitewater rafting doesn't get more thrilling than on the Cheoah River, where Class IV rapids are among the longest and steepest in the Southeast. It is a good way to enjoy the beauty and mystery of the Smoky Mountains, but do it in the summer!
Roads through the beautiful Great Smoky Mountains National Park may lead to Clingmans Dome, the highest peak in the Smokies, which is just a mile from Fontana Lake. Also nearby is the Nantahala National Forest which includes the scenic Nantahala Gorge west of Bryson City. The Joyce Kilmer Memorial Forest, with 3 ,800 acres, is one of the few tracts of virgin hardwood forest remaining in the Appalachian Mountains. An easy hike, which Lilliam enjoyed, reveals a natural preserved forest with 400 year old poplars with trunks measuring more than 20 feet in circumference. The forest is the portal to the 13,562-acre Joyce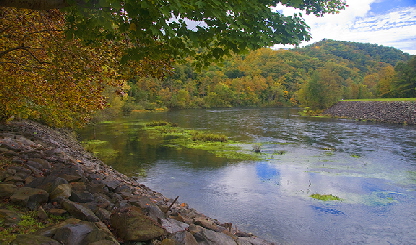 Kilmer-Slickrock Wilderness, which offers more than 30 miles of trails. The pristine nature of this area is only obvious when you hike it; the huge trees and unspoiled surroundings are indeed amazing.
Contacts: For general info on this beautiful region of North Carolina, visit www.GrahamCountyTravel.com, and for more info on Fontana Village, visit www.fontanavillage.com or phone 1-800-849-2258.