The black howler monkeys were at it again ... throwing nuts onto the tile roof of my rain forest canopy suite while I was relaxing a bit after a tiring day of fishing in the nearby Marine Preserve. Their growls and nut tossing antics were beckoning me to get up, grab my camera and walk out the front door to snap their pictures.
I could have simply walked 20 feet or so to my screened porch that was cantilevered even further off the mountain cliff and watched the troop of 5 or 6 howlers climb and swing from tree to tree in the forest canopy, but my need for photos and their persistence moved me out the door with my camera each day.
The lodge in Southern Belize's Toledo District is situated on the private 36,000 -acre Laughing Falcon Reserve where a large variety of wildlife is an ever present part of the experience. The area is also very possibly the last remaining tourist destination where visitors can truly explore the authentic Mayan culture and history in a very natural, non-commercial environment.
To enjoy the wildlife and eco-aspects of the area as well as the historical and cultural activities, there is no better place than Machaca Hill Lodge as your home away from home. The serene rainforest canopy lodge owns 12,000 acres and is bordered by the Rio Grande, a marine reserve, organic gardens, Mayan ruins, miles of uninterrupted forest and various cultural and geological sites. Its five-star service and accommodations lends the type of comfort and facilities needed for any adventure into Southern Belize.
With only 12 guest rooms, the lodge specializes in personalized service. Since late 2008, the lodge has seen more than $3 million in renovations and refurbishments, a vision by its current manager, Brian Gardiner to bring the facility to a 5-star status.

Born in South Africa from British parents, Brian's background as former manager of top-notch African safari lodges for Abercrombie & Kent, coupled with his love for hospitality, is evident at Machaca.
"We have certain pillars of strength at Machaca," he explained. "Because we are quite small, only 12 luxurious tree house suites, we try to make it as personalized a stay as possible with every guest. We interact with the guests and we try to anticipate what they want. From a management perspective we try to pick that up quickly so we can tailor the stay to their needs."
As with many destinations, the second focus is food, but at Machaca they are going a step further by providing organic food as fresh as possible. The gourmet dining features an organic menu. The chef goes to the market every day to select the freshest food possible and integrate a Caribbean/American fare.
"Agri-tourism is something we will start within a few months," explains Brian. "As land owners, we want to be good stewards so we are looking at growing fruit trees, native crops and vegetables that we can produce for our resort, as well as our own plant demonstration units. We want to be a show case for how to roast and make organic coffee and make our own chocolate. Our vision is to employ the native Mayans to create a real working place of the culture to show our guests, and our guests will be able to participate."
"One more special feature of Machaca are our in-house guides," added Brian. "They are the most vital part of our value and strength. We spend a lot of money and time on training and have selected the best guides available to be able to deliver a multitude of different activities for our guests."
Facilities & Accommodations
Every guest suite is perched at the edge of the mountainside, overlooking the massive trees of the forest. Rooms are spacious, about 20 x 40, with a roomy screened-in porch jutting into the rainforest canopy about 100 feet above solid ground. The Rio Grande flows about 1,000 feet below, at the bottom of the mountain. There are no doors between the large guest room and the open porch, so at night you sleep with the sounds of nature. We had rainstorms each night on our stay which limited the howler monkeys tribes jungle roars to daylight times.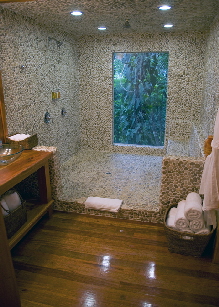 Each suite has two very comfortable, plush queen-size beds and an air conditioner that helps keep the room cool. A mini refrigerator keeps soft drinks and water cold, and a digital room safe is available. Rounding off the amenities is your own cappuccino coffee maker with a press pot - for which most Americans will need to read the instructions.
Beautiful wooden floors and an over-sized bathroom with specialty showers are welcome additions from the recent renovations. The river rock walk-in shower has a floor to ceiling, fixed-glass window looking into the heart of the jungle - you are truly taking a shower in the rain forest. To add to the ambiance, the shower also has romantic candles, oversized bath towels and fluffy bathrobes. You need not bring anything - there's a hair dryer, and great shampoo, hair conditioner and body wash imported from the U.K.
Our suite, like all of them, had a concrete walkway along the mountainside leading to the main lobby about 200 yards away. The two-storied main building has a very well-stocked bar and indoor/outdoor dining in the upper level, with a wrap around veranda offering a view of the ocean and rainforest canopy. Adjacent to the main building is the pool…and the most outstanding spa. Walking into the spa facilities itself is reminiscent of a Japanese garden, with a small pond and the quiet sounds of the jungle.
The treatment room is certainly one of the most attractive features of the resort . Its wall-to-ceiling fixed glass window overlooking the forest is a magnificent backdrop to the selection of body treatments available. Bertha, the massage therapist, is very probably the most talented that I've ever experienced. The setting, combined with the talented hostess, was a highlight of my stay.
Another recent part of the renovations was an upgraded funicular ... sort of like an open elevator on rails ... which descends about 1,000 feet from the main lodge building to the river below. At the river, a large boat house stores the kayaks and various sizes of rubber boots for walking the lodge's hiking trails. Two large dug out canoes are hung off a gigantic tree as decoration for the expansive riverside deck area. Tables and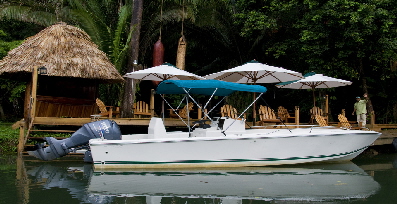 umbrellas give guests a good vantage point of the Rio Grande, and Bar-B-Q's are often held here to enjoy the serenity of the moving water.
Food, Food and more Food!
Breakfast is served buffet style, with cold cuts, pastries, cereals, four types of fresh juice, and coffee. You can order eggs or pancakes, but Larry found his favorite thing on the first day and ordered it every morning - fried Jacks! These hot pastries with cinnamon coating were very similar to the French beignets but without the powder sugar, and they were truly delicious! Belize is famous for its coffee, and the lodge prepares it fresh daily with ground coffee beans and a press pot. I have been forever spoiled after drinking it this way and can't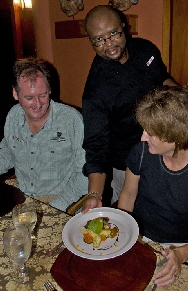 think of instant coffee any more!
Since we were out and about during the day, lunch consisted of sandwiches made with fresh home-made bread and whatever chef selected - often more than enough to feed a small army! But, if you didn't have enough by then, high tea is held every afternoon in the lower level veranda adjacent to the lobby. This very British tradition offered an opportunity to snack on cakes or cookies with freshly brewed ice-tea or lemonade.
In the evenings, pre-dinner (drinks and appetizers) is scheduled at various locations throughout the lodge. On our first night, we enjoyed drinks (and what looked like dinner but really was just appetizers) by a beautiful fire pit as we watched the sun set behind the trees. On subsequent nights, guests will gather in the verandah, or be taken by funicular to the river deck at the bottom of the mountain. Pre-dinner is then followed by a four-course meal (usually two choices for main entree), and if you can still force yourself, some after-dinner drinks.
Brian also takes pride in incorporating knowledge about the local culture for the guests. One evening during our stay, we were entertained by a musical trio from the Garifano culture, an interesting and unique look at a group of people that most visitors to Belize never get to meet.
Personalized Activities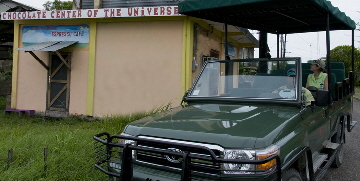 The most difficult part of staying at Machaca Lodge is selecting what to do each day. This area of Belize is unrivaled for the number of eco-experiences within easy reach of the lodge. A custom-made Range Rover that resembles an African safari vehicle takes you anywhere you decide to go.
Our personal guide was Wilfred Mutrie, a licensed tour guide for over 10 years in the district of Toledo. "To be a licensed tour guide takes time and study," he explained. "Only licensed tour guides can take you to certain unique places throughout Belize, including caving, birding and Mayan sites."
If guests' itineraries are based on their likes, our list was longer than most! We wanted to do everything! Fishing, hiking, exploring ruins, swimming at the waterfalls, visiting the market ... but having planned only to be there 4 days, we had to shorten our very long list.
The all-inclusive program offers guided tours of the rainforest, rivers, reefs, villages and ruins, both during the day and at night. "We have 7 walking and hiking trails within our properties and our own ATVs, kayaks, and mountain bikes," explained Wilfred.
During our four-day stay, we managed to visit two Mayan sites (see related article), went fishing two days, visited Punta Gorda and its market, had a picnic at Big Falls on the river, and a visit to San Antonio Falls. In a couple of small villages along the road, we watched locals, dressed in their best, walking to the village churches to attend school graduations.
"We did a lot in a short time," said Wilfred. He also suggested some day by day itineraries for our next visit:
Day 1 - Visit a wet cave such as Blue Creek, and a Maya site.
Day 2 - Hike around the property and do a river tour, or kayak in the river.
Day 3 – Visit one of the out islands for a full day of snorkeling and a picnic.
Day 4 - Go shopping at the Punta Gorda market and visit a chocolate (cacao) farm.
Day 5 - Go fishing for snook, tarpon or permit in the river or on the nearby flats. Or go to the outer reef after bonefish on a calm day.
Day 6 - Sleep in! Read, have a spa treatment, relax and enjoy the lodge facilities.
I would suggest that if you do the Day 6 activity, have your camera and binoculars handy! The howlers just seem to enjoy company!
For more information on the great rainforest canopy lodge, Machaca Hill, contact info@machacahill.com, visit their website at www.machacahill.com or call 011-501-722-0050.