Laguna Boca Paila Permit for Bonefish Action
by Larry Larsen
I won't say it's easy to boat a half dozen bonefish, a nice permit and about 20 other fish of 5 to 7 species in Laguna Boca Paila, but it is not difficult. My recent trip to Mexico's Riviera Maya found me seeking some inshore, light tackle angling and Boca Paila Fishing Lodge about an hour south of my Barcelo Maya Palace resort seemed to fit the bill.
My friend John Roberts and I drove down the last 20 miles of sandy road toward the lodge from Tulum with great expectations. We were not disappointed. We met Mario Torres, a guide of 20 years in the backwaters of Ascension Bay and the lagoon. The major advantage of this lodge versus 2 or 3 others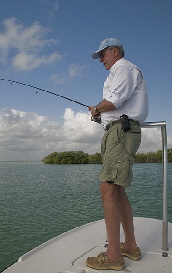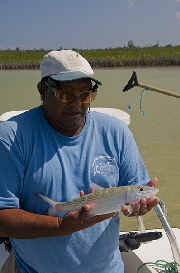 further south on the Bay is that Boca Paila's fishery is less affected by Quintana Roo winds. On our flats checkout trip, we landed a bunch of bones, a couple of 8 pound permit and a total of 45 fish.
All four species of the flats "grand slam" are found near to the lodge docks and this resort brags of over 250 documented daily catches of a bonefish, permit, tarpon and snook. Their records also have recorded about 400 regular "slams" which an angler had caught in just one day's fishing. In fact, this lagoon and bay have produced more grand slams than any area elsewhere in the world. Pictures of anglers and certificates line the walls of the lodge restaurant. That's impressive!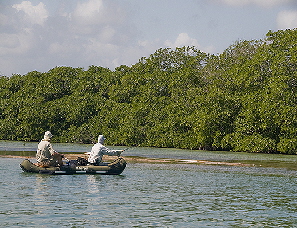 The lodge, built over 38 years ago, has esteemed history where many renown anglers have visited and been very successful on the flats nearby. It was the area's first bonefish resort, and manager Gualberto "Chico" Caamal brags that half of his 10 guides have more than 20 years of experience on the bay and lagoon. Boca Paila Lodge sits on a narrow spit of Caribbean land between a beautiful white sand beach and the lagoon, where its ten 17-foot long, 40 hp outboard-powered flats boats are docked. The lodge restaurant offers 3 meals a day to the guests in 5 duplex bungalows spread around the palm tree landscaped grounds.
The lodge's busy season is January through June and both daily and 6-day fishing packages that include all rooms, meals, transfers and guided fishing are available. The bonefish and permit fishing has actually improved over the years thanks to a government reserve being established there, according to the manager of 8 years.
"While the area was commercial fished in the 1080s, only sportfishing has been legal since," Chico says. "The lagoon fishing has been preserved. Today, the average fisherman catches 8 to 15 bones per day and maybe a permit or two. Fly rodders will normally catch less than spin fishermen."
On a great day with minimal winds, an experienced angler may catch up to 20 bonefish from the muds or tailing on the flats and maybe 2 or 3 nearby permit. When the wind is from the south, the northern part of Ascension Bay is the place to be. When winds are from the north, then the middle part yields the most fish, according to Chico. Top flats fishing is usually in the spring and summer months but bonefishing can be productive in the late winter as well.
Tarpon up to about 50 pounds are found in the Bay only after a lot of rain, but snook up to 16 pounds can be present. Top times for the two species are in low light during May through July. The windy months are February through April and the fishing is tough then, especially for the fly fishermen.
For more information on the great bonefish and permit fishing opportunities at the lodge, contact Chico at (998) 147-7379, visit the website at www.bocapaila.com or email chico@bocapaila.com.