El Campeon's Challenging Golf at Mission Inn Resort
Water, Water and Beauty Everywhere
By Larry Larsen
Running five minutes late for my tee time, I quickly jumped in my cart and headed for the first tee on the beautiful El Campeon (The Champion) golf course. I was told my golfing partner was at the tee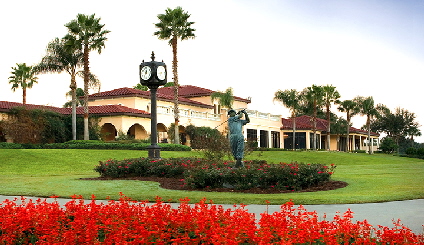 box. He was not. He was already halfway down the par-5, 422 yard (from the gold tees) Hole 1 called "Pine Valley". I met up with my partner, dropped a ball near his and played on in to the green. I didn't even par the hole from that distance.
I did tee off in a timely manner on the second, water-skirted "Bayou" hole and the third, dogleg "Carry" hole and managed to shoot bogeys on both, which is very good for me. Then, I hit the "Mountain" Hole 4, a seemingly short par 4 which the 1,100 acre Mission Inn Resort & Club describes as the beginning of "the real character of El Campeon". The tee shot must carry a lake to find the uphill fairway that rises 85 feet to the green. The second shot, or third or fourth if you play like me, is from a side hill lie whereby the severity of the sloping fairway requires a couple of extra clubs to reach a green that no one can see.
From that exciting hole on, there were more up hills, down hills, elevated and hidden tees and greens and a very topographically-challenging course. And it was consistently "downhill" for my scoring. Several doglegs, lots of bunkers, lakes and streams, and pines "guarding" approaches or greens kept me going to my bag for different clubs. The par 3 "Island Green" hole 8 has a generous green surrounded on two sides by water and bunkered on another, providing the "only safe bailout area", according to course descriptions.
I thought that I lucked out on the tee shot when my drive from the elevated gold tee landed on the green dry 10 foot below the hole and about 15 foot from the daunting bulkhead. I picked up my tee and looked back in time to see it slowly rolling down the green's slope and off the bulkhead and onto a mud bank four feet below the putting surface. The water hazard was a couple of feet low so I was able to easily retrieve my muddy ball. That hole however put an exclamation mark on my efforts that afternoon.
From there on, the fun course throws lots of downhill fairways and water everywhere to make the 97-year old George O'Neill course even more challenging for novice golfers like me. While the front 9 had "only" 5 holes with water, the back 9 has 8 holes where you can get you ball wet. The signature hole on El Campeon is number 17 and it's called "Devil's Delight" for good reason.
The old Florida course plays 7,001 yards from the black, 5,624 from the Gold and 4,811 from the Red tees. El Campeon is one of the top-rated courses in Florida and has hosted the NCAA national golf championships for 17 straight years. It is featured on the historic Florida Golf Trail. The resort's beautiful Clubhouse/Pro Shop sits adjacent the full-service Spa Marbella and Nicker's Restaurant, and for those who come off the cart-only course with energy left and not thoroughly beaten down, a fitness center.
In all, Mission Inn Resort & Club includes 176 comfortable hotel rooms, a lakeside marina, three first class restaurants and 30,000 square feet of group space for meetings, weddings and special events. You'll find lots of other activities and amenities to enjoy at the fantastic resort such as freshwater fishing (which I'll cover in another issue), tennis, swimming, hiking and working on your swing at the Gary Anderson Golf Academy … or visiting the nearby historic and quaint Mount Dora.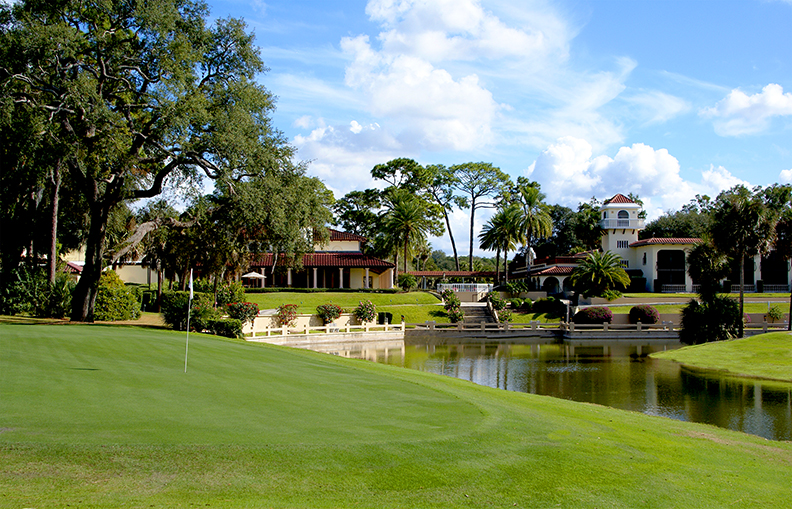 Mission Inn also owns and operates the widely acclaimed 18-hole Las Colinas (The Hills) golf course on its property off County Road 48 in Howey-in-the-Hills Florida. Nick Beucher originally purchased the property in 1964 and it has been developed further into one of the premier resort destinations in the country. They are now celebrating 50 years of Beucher Family ownership and operation and offer very affordable resort/golf packages. Check out the opportunities by calling 800-874-9053 or visiting their website at www.missioninnresort.com. For tee times and tournament information, call 1-352-324-3885.
Oh, and bring plenty of "old water balls" if your brand new ones seem to find the water hazards on almost every El Campeon hole overly attractive!