New Zealand Trout Fishing Guide Jim Gosman
by Larry Larsen
One of the most enjoyable aspects of fishing in other countries is meeting the fishing guides. My guide in New Zealand, Jim Gosman, was no exception. He specializes in guiding fly fishing anglers on 16 favorite rivers in the Lake Taupo area on the North Island. The famous and scenic Tongariro River is just one of the many that the guide knows well. Jim is an interesting Scottish man who has been fishing since he was 15 years old. Born in Scotland, the "lad" was a "gilly" (a Gaelic word meaning "guide") and worked 3 years for his game keeper father.
"When I turned 18, the army recruited me and after my required 2 years of service, I moved to New Zealand," he explains. "There were no fishing guides in New Zealand back in 1963 so guiding was not an option. I then joined the police department and spent 30 years in law enforcement, but I came to New Zealand because of the fishing. I began full-time guiding after retiring."
He puts in long hours for his clients and his "normal" day in the summer months is from 6 am until 10 pm at night.
"If it's good fishing why go home?" he says smiling. "Most people that I guide come from overseas and it's a lifetime opportunity for them. On multi -day bookings, we sometimes take a tent, a sleeping bag and cooking gear and stay out there so that we don't waste time moving around."
For those without their own gear, Jim packs 6-weight rods set up with fly reels spooled with 7 pound test, weight-forward floating line. He regularly employs nymphs and uses strike indicators. At the client's side while fishing, Jim helps in identifying strikes.
"When I call a strike, you gotta do it," he explains. "I had a guy from Austria fishing with me two days ago and he missed fish after fish. He was too slow in setting the hook even though he had numerous strikes from the typically aggressive fish."
Jim loves his job helping anglers enjoy the bounty found in the beautiful countryside around Lake Taupo. While driving to a river, he will often provide running commentary on the scenery and historical landmarks of his adopted home. And he is quick to interpret the native Maori names for clarity and possibly for our education.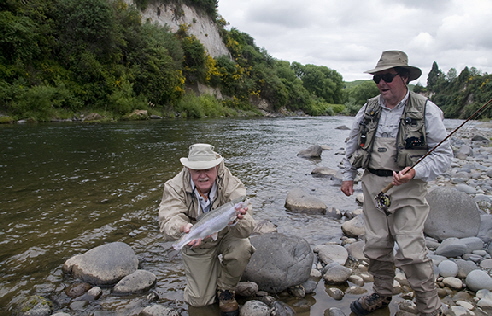 "We are driving out of this catchment (basin) and dropping out of the Hauhungaroa Mountain Range and into another," Jim would say. "That means "the place of the long wind". That river down there which is a spawning stream that runs into Lake Taupo is named Tokaanu which means "cold rocks". Ancestral chief NgatiTuwharetoa or "descendants of the TuWharetoa" are the ones who colonized here in Maori migrations."
"There is a great view of the lake," he points out. "See the steam coming out of the mountains? It's a good reminder that Lake Taupo is a caldera from a volcano."
Indeed, Jim Gosman has a beautiful "office" to ply his trade. I can't think of any other place more attractive to anglers who are able to share the wonderful New Zealand trout fishing experience!
To contact Jim, e mail him at james.gosman@xtra.co.nz.