The North Island's Grand Lake Taupo Region
By Larry Larsen
Roaring down a raging river in a jet boat, fishing for shrimp, walking through geothermal "craters", sea kayaking or bungee jumping from 150 feet above a river-the Lake Taupo region has it all and much more! There's lake swimming, skiing on a live volcano and hiking or quad biking in the native bush. This destination on New Zealand's North Island is the place to go for outdoor activities and attractions – even for the locals!
Just a short 30 minute flight from Wellington, the greater Lake Taupo area includes Mt. Raupehu, Mt. Tongarino and Mt. Ngauruhoe, the three volcanoes of New Zealand's first national park, Tongarino. The mountains surround beautiful Lake Taupo, which is also bordered on the eastern shore by several small resorts, restaurants and attractions. The western shoreline of the lake is much more natural and secluded.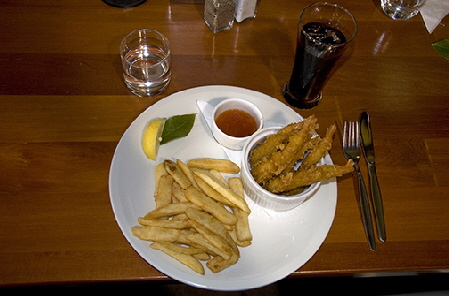 Many visitors to the quaint area enjoy the unique attractions. New Zealand's only Prawn (shrimp) Park (www.hukaprawnpark.co.nz) is located next to a natural steam vent. This attraction is great for kids (and some adults) and includes a hatchery tour, fishing for prawns, a water gauntlet and bikes and even a geothermal bath to soak your feet. We can attest that the restaurant serves excellent fried prawns!
Nearby lies the Waikato River and Huka Falls, a natural small but forceful waterfall that is the centerpiece of the Hukafalls Jet boat (www.hukafallsjet.com) ride. For those who are not afraid of speed, this is a great, exhilarating ride. While jetting along at 50 miles an hour your boat driver often spins the craft 360 degrees! You need a firm grip on the safety bar and a settled stomach for sure. The popular Hukafalls jet boats on the outskirts of Taupo attract about 50,000 passengers each year.
A great way to immerse yourself in true Maori nature and culture is to go on a guided PureORAwalk. These Maori guides, whose ancestors have utilized forest resources for centuries, regard themselves as kaitiaki/guardians of the Tane-Mahuta/God of the Forest. This is a relaxing, stress free and informative walk where visitors experience the korowai/cloak of silence with dinosaurs, gather a food basket and put together a first aid kit with ingredients supplied by nature.
Besides the great trout fishing in the surrounding streams, the lake offers great fishing from comfortable vessels, such as those at Chris Jolly Outdoors (www.chrisjolly.co.nz). He also runs scenic lake cruises to rock carvings and other points of interest on the lake, brunch and twilight trips and private charter party excursions.
There are many other things to do around Lake Taupo (some at no cost). Craters of the Moon is a popular and interesting visit, suitable for people of all ages. Open since the 1950's, the walkways lead to several viewing platforms on the edge of large craters. From it's truly impressive to feel the earth's fiery core as it vents in large clouds of slightly sulfurous steam. Sometimes the steam is so thick you lose sight of the people walking with you! The attraction charges a small fee to keep the walkway maintained etc.
The Opepe Reserve is the scene of a massacre of 9 soldiers from the Bay of Plenty Cavalry by TeKooti's men in 1869. A short walk leads to the graves, and you can also see what remains of the old Opepe settlement. For wine lovers, Scenic Cellars is New Zealand's largest underground wine cellar with samples from the different wine regions of the world. Accommodations are varied in the area, from simple motels to the luxurious trout fishing lodge, Tongariro. Each offer unique and exciting adventures that you will not soon forget!
As tourism officials often note, the area is rugged and rich in history, beautiful and accessible, but they also take pride in visitors getting to know locals and making new friends. We met several warm and friendly locals and even received a Christmas gift from one family that we had met while fishing a beautiful trout stream near their homestead. That is an especially rewarding experience to return home with!
For more information on this beautiful area, contact Destination Great Lake Taupo at info@GreatLakeTaupo.com.