Island Hopping Without A Passport
There's plenty of outdoors activities on Florida's Palm Island
By Larry Larsen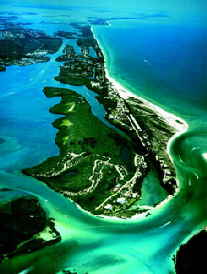 Whether you are interested in fishing, boating or kayaking, playing in the Gulf, canoeing through mangroves, or in the manatee awareness program or the sea turtle program, there is plenty to do at the very private island resort called Palm Island. Located on Florida's Southwest Gulf Coast, the Palm Island Resort offers a true out-island experience; there are no bridges or causeways to the island, which insures a tropical vacation setting offering a wide variety of natural adventures.
The island is conveniently situated near Gasparilla Pass at the northern end of famous Charlotte Harbor, so the inshore fishing for redfish, trout and snook is among Florida's best. In my numerous trips to the area over the past 20 years, I've caught hundreds of big reds and trout from the mangrove "back country" islands, sandy grass flats and passes, plus lots of big snook and a few 100-pound tarpon, the ultimate inshore catch. I know of no better place to base your fishing expedition.
The 100-year-old history of catching big tarpon on a rod and reel is documented in the sepia-toned photos in the restaurant at Palm Island Resort. The world famous Boca Grande Pass, where more "silver kings" are found in the early summer than anywhere else in the world, is just a few minutes away. Palm Island Resort provides experienced fishing guides who know where the fish are, or rental boats for anglers who insist on doing it all on their own.
You don't always want or need a boat. While their families sleep, some anglers rise early and wade the knee -deep flats with a fly rod or a spinning rod, sight casting ahead of the wakes pushed by snook or redfish feeding in the shallows. Mangrove snapper are common on the inside, feeding in the swash channels amidst the roots of mangrove trees, and red snapper and their "reefy" neighbors, grouper, are caught in the Gulf of Mexico from deep water ledges, channel edges and sunken wrecks. King and Spanish mackerel following baitfish migrate just offshore going from north to south in the fall and south to north in the spring.
Palm Island Resort is all about nature and outdoors enjoyment. A nature program includes special events and programs to educate guests of all ages on the importance of preservation, marine life and wildlife.
Resort guests may participate in sea turtle awareness walks beginning in mid-June when hatchlings first appear along the beaches and continue until the nests disappear, usually in October. Guests meet at 7:15 a.m. to comb the beaches in search of loggerhead sea turtle nests. Once nests are located, they are marked and monitored so they remain undisturbed. In addition, the resort presents a twice-weekly, hour-long Sea Turtle Nature Program, which includes slides depicting the various types of sea turtles, their eggs and the hatchlings. A discussion outlines the ways resort guests can help protect the turtles , such as by turning off lights or closing window curtains in the evenings when most hatchlings emerge from their nests.
Canoe and kayak rentals are arranged through the resort's recreation office. The Intracoastal Waterway mangroves serve as the launching area for kayaks and canoes and provide a natural 'back-country' setting. Regular manatee and dolphin sightings are common, as are sightings of tropical birds such as heron, osprey and pelicans.
Manatees hold particular appeal for adults and children who enjoy watching the slow moving mammals meander through their native habitat -- the warm shallow waterways that surround the island. Also known as sea cows, they feed on the sea grasses of the estuaries along the resort's Back Bay and canals. Signs, on land and in the water, constantly warn visitors to be cautious of these protected Florida animals.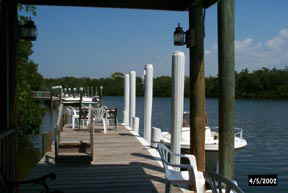 As publisher of two nature books, "Manatees – Our Vanishing Mermaids" and "Sea Turtles – The Watchers Guide", along with a new children's book, "If I Were A Manatee", I am well aware of the importance of each to Florida residents and visitors alike. For more information on the books check out our book section on this website.
The resort offers several eco-tour adventures, such as the sea life excursion, a hands-on opportunity to encounter plants and animals in the Charlotte Harbor Aquatic Preserve aboard a 40-foot catamaran. Tour guides share history and information about the birds, fish and other wildlife encountered. A kayak eco -tour is hosted by an experienced guide who leads kayakers into one of the most productive marine estuaries in the world.
Palm Island Resort is a first class destination featuring fully furnished vacation villas overlooking white sand beaches, swimming pools and hot tubs. It has an Island Kid's Club, the Rum Bay Restaurant and General Store , a recreation program, tennis courts everywhere, and golf privileges at nearby courses. For more information on the varying outdoor activities and fun adventures on and near Palm Island Resort, call (800) 824-5412 or visit their website at www.palmisland.com. Check flight availability to Key West.