Plantation On Crystal River
A perfect headquarters for Florida's outdoors
By Larry Larsen
It looks like a Southern Mansion and exudes Southern hospitality. Plantation Inn is in a perfect spot between famous Crystal River and Homosassa Springs on Florida's West/Central coast, also known as Florida's Nature Coast. Located on the shores of
King's Bay, it features a full-service marina offering pontoon boat rentals, fishing for trout, redfish and tarpon, scuba diving or snorkeling in freshwater springs, scalloping and even swimming with manatees in the wild tours.
The resort is tucked away from the main drag but it's the perfect base of operations to enjoy a multitude of outdoor activities. King's Bay is one of the largest aquifers in the state and is home to hundreds of manatees, especially in winter. This makes this resort a water lover's paradise, where you can kayak or boat the beautiful waterways or hike along pristine shoreline in the state parks.
The 50-year old, 196-room Plantation resort has
been recently renovated and is spread out in several 3-story buildings shaded by giant oak trees. Rooms include flat screen TV, wi-fi access, mini-refrigerators, complimentary coffee & coffee maker, hair dryer and iron/ironing board. It also offers excellent flexible meeting space, a full service spa, the "West 82 degree Bar and Grill" dining room and bar facing the pool and waterway and 27 holes of golf!
One championship 18-hole course and a 9-hole executive course is all most golfers need to enjoy a few hours of a "good walk spoilt." The course designer, Mark Mahannan, set out to create a rewarding course in the traditional "Florida" style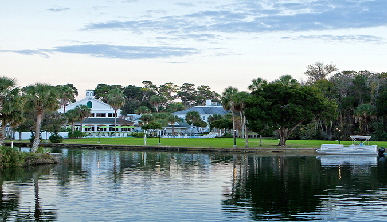 with variety of water and bunker obstacles. The 50-year-old course has certainly aged well, with an assortment of challenging fairways lined by mature emerald pine and oak trees native to the region, and water hazards on 21 of the courses 27 holes.
For more information on the Plantation on Crystal River, contact them at 800-632-6262 or visit their website at www.PlantationOnCrystalRiver.com. Nearby are many other great restaurants such as Cody's which is renowned for their pulled pork sandwich. Try it and you'll love it!