Winter Park's Pole Creek Golf Course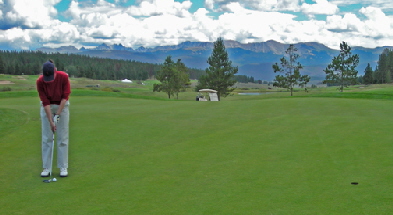 For a Floridian, a golf course that charges $89 in high season is a bargain. And we knew that in high altitudes, golf balls fly further and straighter. Therefore, during a recent stay at Winter Park in Grand County, Colorado, we could not resist an invitation to play at Pole Creek which is just 10 minutes away.
Pole Creek Golf Course is one of very few public 27-hole golf courses in Colorado. It has received several awards, including Zagat Best Places to Play and rated as one of the top 75 public golf courses by Golf Digest. It describes itself as a "mountain course" but we would describe it as a very hilly course with beautiful mountain and forest views. There are very scenic views of the famous Continental Divide.
The Meadows/Ranch combination of 18 holes is the easiest layout according to Mary Moynihan, pro shop manager. Designed by Denis Griffiths, the course winds through stands of lodgepole pine, valleys, meadows and a variety of lakes positioned strategically as water hazards.
We arrived at 8:30 am for our 9:30 tee time and since we had time, we enjoyed a very good breakfast burrito and coffee in the restaurant. Then we headed for the practice range to warm up. It was a chilly 50 degrees!
We were originally paired up with another couple but they didn't show up at the appointed tee time so we played by ourselves. We don't mind playing with others, but in this case it was probably good that we were on our own.
We studied the scorecard for the first 9 holes. Four of the 9 holes on the Meadows layout offered water challenges, mostly creek beds that were hidden by low bushes or rocks. We knew we would have to watch out and pay close attention to where our balls landed.
The first hole was an indication of the challenge ahead. Described on the scorecard as a "warm up" hole, it certainly was true! Straight and up the hill at seemingly a 45-degree angle! Fortunately, the altitude of the course, at just over 8,000 feet, helped our game. Our balls were
straight and long on most of the holes.
I said most of the holes. #2 was my worst hole ever. Tee shot should favor the right side, but my ball paid no attention. It landed in the bunker, and from then on the entire hole went downhill (figuratively). On the Meadow #5, a split fairway confused us at first. We could see the fairway straight ahead but the marker was also visible to the left, over some bushes and a creek bed. Going straight would force us to hit over the drop area and the creek. Going left would force a blind shot. Either way, we were in trouble.
We had also been warned about #7, the signature hole on the Meadows. It lived up to its reputation. A severe dogleg left, with a sloping fairway bordering a lake and dropping to a creek bed which separated a lay-up area and the green, located about 30 feet high on a hill. Even describing this hole is a challenge! Again, a double bogey on this par 5 for me was very good. Larry lost a couple of balls.
The Ranch layout started off well. Here, five of the holes are home to Pole Creek. Hole #1 is a long 423-yard (red tees) and 557 yards from the white tees, straight par 5. Strategic shot-making was key here. Ranch #2 is a scenic par 3 and #4 is a deceivingly difficult par 4. Bushes and a lake in front of the green requires a very delicate shot short of the lake and to the left.
The par 3 #7 and par 4 #8 both are both difficult if the creek intervenes in your plans.
The par 5 #9 hole won't show any mercy on tired golfers. Climbing hills and greens, and the altitude that also helped our golf, had also taken its toll on our sea-level bodies used to flat golf course layouts. This hole is described as "reachable" if you stay out of the wilderness area. We did explore this wilderness area in search of our golf balls. Isn't that part of the fun?
The next time we play Pole Creek, we will develop a more strategic game plan in advance. Let's hope this helps you! For more information on Pole Creek Golf Club, visit their website: http://www.polecreekgolf.com, email them at info@polecreekgolf.com or call toll free 800-511 -5076. Tell them we sent you!