Cruising French Polynesia
A stylish visit to the legendary port-of-call in the South Pacific.
by Larry Larsen
Exotic Tahiti, called the "Island of Love", lies in the Society Islands about halfway between Australia and Los Angeles. The island was the point of debarkation for our cruise on Radisson Seven Seas' Paul Gauguin, named after the famous French artist who made Tahiti his home for many years. For first-timers to the islands, this cruise might be a good way to absorb the ambiance of French Polynesia in a few short days.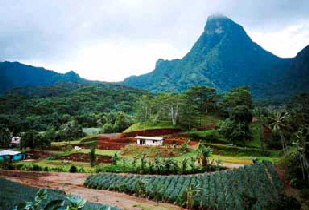 Tahiti

Tahiti, with its rainforest-covered valleys and lush mountain peaks, is the largest of 130 islands and atolls that comprise the five archipelagoes which form French Polynesia. The islands are volcanic in origin and many of the atolls or motus are of coral formation. The total land area of the Society Islands is only 1,550 square miles.
While Tahiti is synonymous with unspoiled beauty, the island itself and its bustling capital of Papeete does not conform to that image. Papeete is a typical large city with the congestion and litter of most. The cruise port is very busy with yachts, ocean liners and schooners and both vehicle and public "bus" transportation traffic. In fact, if not departing on a cruise, we highly recommend most visitors use Tahiti as a springboard to the other nearby islands of French Polynesia.
If you must spend some time in Papeete, which we had to at the end of our cruise, we recommend taking a drive or bus tour to the countryside. Several interesting sights include the Paul Gauguin Museum (but don't expect to see his works, which are scattered throughout the world), the Maraa Grotto where overhead springs drip through a ceiling of ferns into a cave formed by the sea, and the Museum of Tahiti and Her Islands, with numerous archaeological finds and an overview of the island's geological history.


Moorea may be the best island to purchase the famous black pearls for which the Tahitian islands are known. It's wise to shop as far away from the cruise port as possible to determine which store may be offering the best prices.

Other tours include four-wheel drives into the interior where waterfalls cascade into fern-lined streams and rivers making the countryside an enjoyable escape. A road winds around most of the island, and it is out there where panoramic views of palm-covered foothills and tropical jungle exist.
If you are confined to the city of Papeete, take advantage of the shopping opportunities, but do not shop for the famous black pearls here. We did find a uniquely-carved, 3-foot tall wooden statue to "stand guard" in our foyer, imported from Bali.


Bora Bora

Perhaps one of the most interesting aspects of the outer islands are how famous they are, yet how little tourism infrastructure exists. Bora Bora first became famous in the 1940's with James Michener's best-selling novel "Tales of the South Pacific" which eventually became a movie. Bora Bora became the enchanted island of Bali Hai (which does not exist).
Located 150 miles northwest of Tahiti, Bora Bora's main feature is its world-famous turquoise-blue lagoon with numerous "motu" islets scattered along a large ring of coral. The fabled mountain-scape with towering peaks laced with narrow waterfalls, and palm-lined white sand beaches offers a vacation setting that would be hard to top anywhere on earth, in our opinion.
Many of the resorts around this island and Moorea offer bungalows raised on stilts in quiet, serene lagoons. Most are truly first class accommodations with activities for those that wish to partake and quiet, secluded areas for those seeking respite. The beautiful surroundings on Bora Bora included most of the villages on land and the waters offshore.
Ancient and recent history are easily visible here. At the shoreline you may see archaeological sites containing the remnants of temples with petroglyphs of sacred turtles. A short distance away on a hill lie the giant cannons of WWII, defenders of the island against the Japanese. In reality, these islands never experienced the war.
Some ancient customs still remain. Each family has a small cemetery plot at the entrance to their home where relatives are buried. While the practice has been discontinued in Tahiti and Moorea, it continues today in many of the outer islands.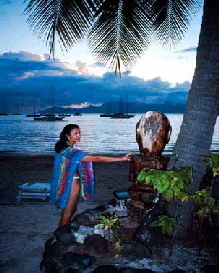 Moorea
Moorea is so close to Tahiti that many people live in the northern coast and take the daily ferry to Papeete to go to work. Still, the island is worlds away in romance, ecotourism, peace and serenity in comparison to Tahiti.
Moorea, with its spectacular Cook's and Opunohu Bays, numerous, jagged volcanic peaks and pristine beaches bordering crystalline lagoons, could be heaven on earth. Of all the French Polynesian islands we visited during our cruise, Moorea has the most beautiful and varied scenery. Numerous Pineapple, vanilla and coffee plantations and lush tropical foliage cover the mountain slopes offering a patchwork backdrop to any photo.
It is unique in many ways. It is the most productive of the islands in terms of food production. It also has magnificent expanses of both white and black sand beaches.
Land here is expensive, and we saw only a few parcels up for sale. In most of the French Polynesian islands, we learned, land is sold only to relatives and not to strangers. This is one of the few islands were real estate sales were more common.

Tahaa
One of the highlights of the Radisson Seven Seas cruise was spending the day on a private motu. The crew set out comfortable lounge chairs throughout the beachfront and, with an open bar, there was no lacking in fun. We had unlimited water sports including kayaking, snorkeling and water skiing. We particularly enjoyed walking to the other side of the motu and snorkeling past two other motus and away from the crowd.
Throughout all the islands the waters are fantastically clear, but they do not have huge coral reefs. Marine life is beautiful and varied but minimal. Snorkeling the motu was very interesting however, because some of the fish are different from those commonly found in the Caribbean. In some areas, the corals still showed visible scars from a hurricane 10 years prior.
As on every cruise, food was always available. On the private motu we had numerous choices of fruit, cheeses, barbecued chicken, hot dogs, salads and much more. It was one of the most relaxing, enjoyable events and our post-cruise comments suggested this become a two-day stay instead of one!
Raiatea
We stayed on board during the time the cruise ship was docked off this small island. Although there are four-wheel-drive tours available, and an anthropologist to take guests on a historical tour, most of the people who did either activity were not impressed.
This gave us some time to carefully explore the "Paul Gauguin". We have taken several cruises, and what we enjoyed the most was its "all inclusive" concept, and tipping was already included. The cabins were spacious and included a small bar stocked with three bottles of liquor of your choice and unlimited soft drinks. Free video rentals were popular here for those with little energy left at the end of a waters -sports-filled day.
While midnight buffets were not available, food was plentiful and in general, very good. We had open seating, another aspect we enjoyed, which allowed us the opportunity to sit in various areas and meet a variety of people. During dinner, beautiful young Polynesian girls with dark eyes and welcoming smiles, called "gauguinines", wearing brilliant red hibiscus in their hair and sarongs slung low around their hips, performed brief dances throughout the dining room. The "poster and postcard models" aboard the ship were of course, the prettiest of what the islands there offer. One in fact, was an upcoming Miss Tahiti beauty pageant contestant.

Fishing
If you are an offshore enthusiast, then take advantage of fishing charters on Tahiti , Bora Bora or Moorea. Most boast of marlin caught near shore. Drops to over 3,000 feet within a quarter of mile of the beaches in some cases make the blue water fishing very accessible. Blue marlin are active from November through March which is also the rainy season. The average size blue marlin runs about 200 to 250 pounds, according to local captains. Peak chartering season however, is during sunny July and August, their winter months.
Dolphin or mahi mahi, yellowfin tuna, and wahoo also roam the depths. Most of the charter boats from Papeete, Tahiti run to nearby Moorea to fish the heavy currents between the two islands. A few charter boats are available on both Moorea and Bora Bora. Most of the captains living the "idyllic life" are commercial fishermen when not sportfishing.