Charlotte Harbor's Restaurants Excel!
Food, Glorious Food

By Larry Larsen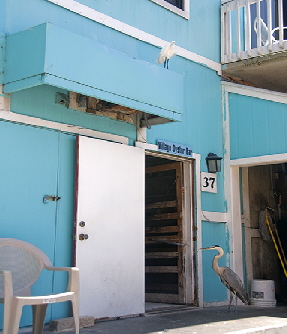 Just like most people who live in Central Florida, we love seafood. But like most people living here, and despite all our travels within Florida, sometimes it's hard to find a place that serves the type of fresh seafood that makes you want to return again and again to that restaurant. Restaurants that are destinations with memorable fare rather than those that are simply "fill stations" are what adventures are made of!
Over many trips, finding only a couple that promised such vittles had been disappointing. That all changed with our most recent visit to the northern end of the quaint Charlotte Harbor and the Gulf Islands area in Southwest Florida. On a short 2 day visit we (plus a couple of friends) managed to eat at six different restaurants and many of them would be worth the two-hour drive from our home.
Here's our list of places in the fun, affordable destination "where nature still rules the roost" that we highly recommend.
Lock 'N Key Restaurant in Englewood (www.lockandkeyrestaurant.com)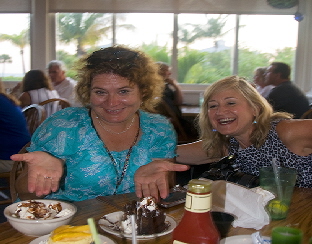 Located across the road from the beach, this popular restaurant features a large indoor dining room and bar area and an outdoor dining area where you can hear the waves tumbling on the Gulf sand. We ordered oysters on the half-shell, Key West style conch fritters and scrumptious coconut fried shrimp appetizers. The seafood salad was excellent and Larry, a connoisseur of scallops, engaged an entree of huge fried scallops. The restaurant claims that every entrée is a "Specialty of the House" and we believe that to be the truth. The scallops were indeed the best that he has ever had in his long life of eating them. We practically had to roll out of there after dinner. We never take home left-overs in a carry-out box while on road trips around the state, but we broke our "rule" here, thanks to having a refrigerator in our hotel suite and a small soft-sided cooler bag in our car.
The Fishery Restaurant in Placida (www.fisheryrestaurantplacida.com)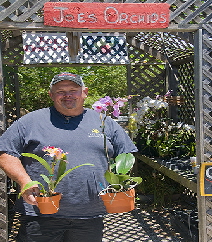 Adjacent the restaurant is a major fish market where folks can come to buy the daily fresh catch. Truly a slice of the original Florida, this casual bayfront restaurant is very popular with boaters who frequently boat in and tie up to their handy dock for lunch or dinner. We will never forget the fried gator tail appetizer bites, truly the best that either one of us have ever had. We eat a lot of alligator tail from restaurants in our Central Florida area and we usually enjoy it, but these were the best ever. Tasty fried batter and oh-so-tender nuggets made us sorry that we devoured that entire appetizer at the table! The huge mahi mahi sandwich was way more than any one reasonable individual can eat. Afterwards, take a stroll to the quaint shops featuring and art gallery and other local arts and crafts. I was amazed with Joe's Orchids, one of the most beautiful (and inexpensive) orchid-growing places I've ever seen.
Rum Bay Restaurant at Palm Island Resort (www.rumbaypalmisland.com)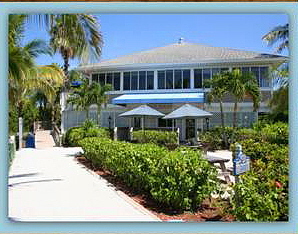 While this is a private barrier island resort that can be reached only by water taxi or a 5-minute car ferry ride, the Rum Bay Restaurant is open to the general public. If you come here, you must try the Hearts of the Oceans Salad which includes lobster, scallops, shrimp and delicious hearts of palm with a succulent dressing. Spectacular! Their coconut shrimp appetizer is also excellent and be sure to try one of their Rum Bay Smash "signature" drinks. Palm Island Resort on a sliver of land is also the perfect place to do a little shelling and watch the sunset after dinner.
The Captain's Table at Fishermen's Village in Punta Gorda (www.thecaptainstable.com)
One of the largest places we visited, it offers a casual air-conditioned atmosphere, quality food and great service and a great outdoor dining terrace overlooking the beautiful Peace River and Charlotte Harbor. Once again, fresh oysters on the half-shell were my highlight and Larry loved his bowl of clam chowder. Entrees are all oversized so bring your appetite. You can arrive by boat and tie up to their terrace (as we did on our lunch visit) or by car, and spend time browsing the numerous shops of Fishermen's Village before or after enjoying the wonderful food. One of the stores in the Village is the Military Heritage Museum which has free admission and another is the Village Oyster Bar where herons and egrets wait at the side door for lunch!
The Gulf View Grill in Englewood (www.thegulfviewgrill.com)
With a beautiful scenic view of the beach and sunset, this place offers a very casual spot on the lower level called Beache's Down Under Bar and the more "formal" restaurant atmosphere on the second floor. The mahi mahi, crab cakes, she-crab soup and Black Beard Steak were the popular selections in our relaxing dining experience, and nobody left this North Beach Road establishment disappointed. They have been serving the great fare for 30 years now.
If you want a hearty breakfast at a good price, check out the eclectic Café Serenity and its French menu. If food is a special part of anyone's adventurous vacation, then the Charlotte Harbor and Gulf Islands area is a place that won't disappoint. We will be back!