Ravenna, Italy - A Hidden Jewel
By Larry Larsen
If you're into old churches and Byzantine buildings full of mosaics, then Ravenna in northeastern Italy is the ideal destination. This quaint city is home to the richest and best preserved examples of Christian and Byzantine art in Italy, and is currently the top producer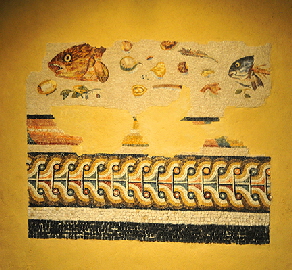 of Italian mosaics in the world.
Ravenna is unassuming in the tourism world, but it is home to eight UNESCO World Heritage Sites, tons of Roman architecture, historical and art museums and Dante's tomb. Ravenna sometimes is included on Mediterranean cruise itineraries as the drop-off point for Bologna and San Marino, but visitors should give it a chance. The town itself is about 10 miles from the cruise port, and there is absolutely nothing within walking distance from the port, so we took the scheduled bus shuttle (additional nominal fee) which dropped us off in a central part of town. It was also unusual that there were no local tour companies waiting at the port offering tours of the area.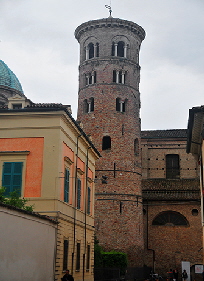 Ravenna is known as the mosaic city because of the well-preserved 5th and 6th century mosaics that decorate the walls of many of its churches and monuments. Even now , this unassuming city continues to be one of Italy's top producers and exporters of mosaics. Much of the historic tourism area is pedestrians only, making it very easy to visit many of the interesting sites.
We picked up a free local map and found that the streets were very clearly marked, highlighting the directions towards the more popular sites. The self-guided walking tours were divided into art and fun, shopping and
eating, and history and mosaics. Even better, many of the sites are free to enter. In our case, the round trip shuttle ticket included entrance to three of the most popular sites.
The Basilica di St. Vitale and Mausoleum di Galla Procida is probably the most popular historic site. Entrance cost a nominal fee, but even from the outside this is a most impressive building. The Basilica houses the largest display of mosaics outside of Constantinople. Every surface of the columns, walls and ceilings inside this church is covered with mosaics depicting Christian history of the Old and New Testament. It is truly an amazing work of art.
We also visited the Domus dei Tappeti di Pietra, which was extremely interesting. It is 3 meters below ground as newer buildings were constructed over old Roman ruins. Here, you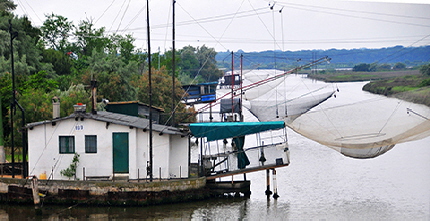 find the remains of a Byzantine palace with mosaic floors still very well preserved. The design and intricate patterns are amazing.
The National Museum was also enlightening. Housed in an old Benedictine Monastery, it holds archaeological collections, ancient arms and 14th century art. The TAMO museum, formerly a 14th century church called San Nicolo, is home to perhaps the largest display of mosaic examples from the areas surrounding Ravenna. The museum is dedicated solely to restoring and housing significant finds of this lost art. These beautifully made displays are worthwhile seeing.
All in all, we were very glad we took the time to explore a little-known destination. We came away with a new appreciation of an old craft such as Italian mosaics and its influence in the cultural and art scene of this area of Italy.