Koh Samui is the third largest island in Thailand and part of its largest Southern Province, Suratthani. There are plenty of interesting sights in the unspoiled area such as waterfalls, forested hills of limestone and granite, palm-fringed beaches and a preserved Ang Thong National Marine Park. Only a decade ago or so, Koh Samui was once a sleepy coconut island. Today, it has evolved into a respectable tourist destination with an international airport.
A real highlight of this trip was visiting Ang Thong, a fascinating group of 42 islands in the Gulf of Thailand north of Samui. The dramatic craggy islands with tall rock walls rise from the sea in an area over 38 square miles. There are small caves, holes in the limestone walls and other unique formations in addition to beautiful little beaches tucked between the outcroppings. Many of the picturesque spots are postcard fodder and where dreams come from.
The park's headquarters are located on Ao Kha where visitors are met by a small tribe of monkeys (dusky langur) that call the palm trees above the powdered beach home. From the beach, there is a trail to Bua Bok Cave with its interesting stalactites and stalagmites. There are many campsites and even a few bungalows on the island. A 45-minute climb or hike will put you at Ko Wua Talap Viewpoint where you can enjoy a fantastic view of the surrounding islands and formations emerging from the sea.
One island called Mae Ko has a mysterious interior lake that takes about 30 minutes to hike to along a trail of bamboo and rock steps. The emerald salt waters there are surrounded by rock cliffs of nature's creation. Another popular spot is Stone Bridge on Ko Saamsao island, but the snorkeling suffers at low tide, as we found out. There are plenty of places in the park to picnic and a few good snorkel spots, but it is just great to motor around all the formations
that make this area so scenic. For those wanting to spend the night, modest accommodations exist on Sleeping Cow Island.
In Samui, I played a round of golf at Santiburi Samui Country Club (www.santiburi.com) and with the aid of Rueta, my Thai caddy, shot a decent score (for me). It was a great course wrapped along a mountain range and through a large coconut plantation. We enjoyed hilltop vistas and spectacular views of the sparkling sea, Maenam Beach and the neighboring island Koh Phangan at many holes. There are natural waterfalls winding through and around a variety of jungle setting, groves and rock outcropping.
The nature-themed course uses painted coconuts instead of tee markers, and the all-female caddies are dressed in long pink pants, shirts and hats (so that you don't lose them). Each hole as well has its own character and challenges, making the Santiburi one of the top courses in Asia. The elevated clubhouse dining area with its beautiful panoramic view made a great chill-out spot for me after the challenging round in the afternoon heat that day. They also serve one of the largest hamburgers that I have ever seen!
The following day, I traveled with small group to the quaint Fisherman's Village in downtown Bophut. It is the main shopping area with wooden and original Chinese shop fronts. The well-preserved "Indochina" village is the dining hub of Samui. To further protect against overdevelopment and to help retain the character and historical elements, the primary auto way through the Fisherman's village will become a walking-only street later in 2010.
I stayed at the beautiful Melati Beach Resort & Spa www.melatiresort.com or 6677-913-400-20) in Thongson Bay on the northeast coast of Koh Samui. The coconut tree bordered white sand beach lies in
front of a large sunken, stepped infinity pool with a pavilion and two treatment gazebo beds on one side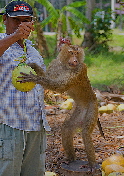 and the open air View Pha Ngan Restaurant on the other. The resort conceptualized as a Thai village has 79 villas and suites scattered amongst lush tropical landscape overlooking serene ponds, small waterfalls and gardens and the pristine powder sand beach and the bay's clear waters. There are plenty of other facilities on property to enjoy as well and wireless internet if you need to be in touch back home.
One of the island's major tourist attractions is the Big Buddha or Wat Phra Yai which lies on the northern coast. The 40-foot tall statue is the most visible landmark around the island. The temple that houses the statue was built in 1772 as a tranquil place for locals and visitors to pay respect to the Lord Buddha. A dragon stairway from the courtyard will lead you to a platform with panoramic view of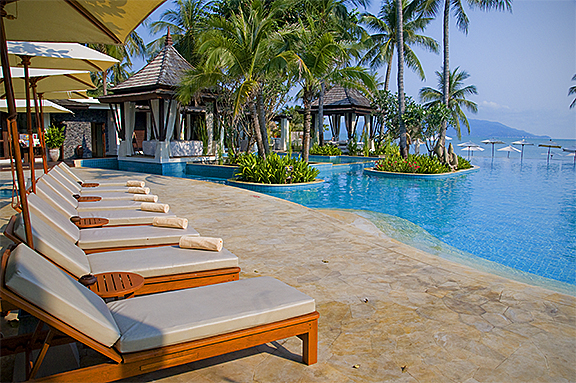 the beach and town below. Another natural attraction on Samui is Lamai Beach with its famed Hin Yai and Hin Ta rock formations or "Grandmother rock" and "Grandfather rock." Another interesting site found a few places around the island is witnessing the deftness of the specially trained monkeys who climb the tall palm trees to pluck the coconuts!
This is one of the most beautiful areas of Thailand and one you should not miss. For more information, contact the Tourism Authority of Thailand (http://www.tourismthailand.org/) at phone +66 02 250 5500 or email center@tat.or.th.