The Search For Snook
Florida's Pine Island Sound offers great snook fishing if you can keep the trout and reds away from you bait.
By Larry Larsen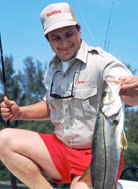 The area along the backside of Cayo Costa is swept by the tide, and that's where guide Larry Mendez, Bill Cork, and I were drifting our sardines. The six-inch long baitfish were frisky and that kind of action attracts fish, plenty of them.
We had boated four large trout when a large snook finally ate my "white bait" and made off through the grassy depths toward the pass. I worked the fish from the shallow beach area to the deeper water near the boat. Four aerial maneuvers later, we watched an exhausted 14 pounder point its mouth in my direction and spit out the hook. It slowly swam toward the bottom to rest and regain strength.
While we didn't get to photograph the catch, I had my thrill and was happy. Mendez maintained our position on that particular hole with an anchor, and it wasn't long before Cork had a 12 pound snook. He brought his next to the boat before it also broke the line and swam away. Our luck, at least, was consistent. We had a couple more snook on that day, but to be honest, 15 trout and a like number of redfish keep interrupting the snook action.
It's like that in Pine Island Sound, just south of Charlotte Harbor in southwest Florida. On some days, all you can catch are snook, and on others, the redfish and trout action is hot too. In pursuit of snook, anglers on the West Coast of Florida use a variety of techniques. Some days, the snook won't leave a Cotee Jig alone, and on others, they prefer a live, natural forage fish.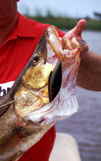 Anglers catch Pine Island snook on all types of bass lures. Vibrating plugs, jerkbaits and crankbaits all have a following, but the jig is probably the best artificial to use in these shallow, weedy waters. The most popular colors are white or red, or a combination of white and red or white and green. When the lure action is slow, then live forage can often catch a snook or two.
Snook are common along the mangrove islands scattered among the thousands of acres of grass flats that line the barrier islands, sounds and bays north of Fort Myers. Some of the better snook concentrations can be found around the docks at the edge of the deep grass flats on the north end of Pine Island around Bokeelia Point. Many shore-bound anglers catch huge snook beneath the docks from which they have access.
Another good area to search for snook is near the mangrove treeline and three foot deep flat on the west side of the Sound near a pass adjacent to Cape Haze. The area just off the North Captiva airport runway is a known haven for some giant snook. The docks along that island and the others around the Sound seem to also harbor some monster snook. A friend has taken snook of 34 pounds from docks near several of the passes. He concentrates on docks and their bounty.
The Pine Island Sound area offers a variety of structural habitat such as docks and wood pilings, beaches, grass beds, mangrove islands, plus other influencing factors for a snook fisherman, including incoming and outgoing tides, finger channels, eddies and passes separating the islands of North Captiva, Cayo Costa, Boca Grande, Captiva and Sanibel. Snook can be found any number of places around the grassy rips or markers lining the intercoastal waterway.
Another good high-tide area for big snook is around Sanibel Pier. During low tide levels, look for finger channels just off the mangrove islands that offer strong tidal flows. They usually cut through large grass beds and around barrier mangrove islands. When water levels drop due to the outgoing tide, the surrounding grass beds will usually be exposed, pushing the snook within these channels.

Mendez prefers to fish in an area with abundant baitfish present. If the forage is not moving in the proper areas, he'll often "seed" the spot with a handful of baits. When using white bait or shiners, the guide will use a 2/0 hook and 40 pound test leader. The stronger leader is a good choice when heavy snook are in and around pilings or other obstructions. Larger white bait is ideal for the bigger snook, and they can carry a slightly heavier leader.
"Speckled" bottom that with sandy potholes surrounded by grass near mangroves, is ideal for snook, according to Mendez. In waters of two or three feet, you can also catch both trout and redfish. Depths of 7 to 8 feet lie adjacent to the better flats. When the falling tide practically dries up the flats, snook will move off into the deeper waters nearby.
For further information about fishing in the area, contact the B eaches of Fort Myers & Sanibel. The address is 12800 University Dr., Suite 550, Fort Myers, FL 33907 (telephone 800-237-6444). For an excellent booklet showing area accommodations (hotels, resorts and RV campgrounds), ask for the "Traveler's Guide To Lee County." Accommodations on the islands usually cost considerably more than those inland. Check flight and hotel availability!
Most importantly for those who bring their own boat, the booklet lists the marinas in the Charlotte Harbor/Pine Island Sound area. There are about five marinas on Sanibel and Captiva Islands, 10 on Fort Myers Beach and five in Cape Coral. Pine Island Marina on Pine Island is handy to the sound and the fishing.