South Africa Adventure Charge!
By Larry Larsen
Think the menacing-looking tiger fish with those ferocious dentures will provide the most adrenalin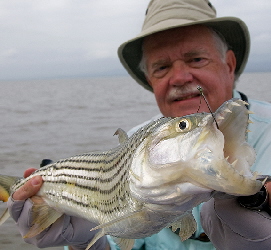 in a fishing expedition to KwaZulu Natal, South Africa? Think again.
Think of a trio of angry 4,000-pound hippos charging your small boat. Contemplate a herd of 50 Cape buffalo getting ready to change your boat positioned in too shallow water. African hippos are the most dangerous encounters that any boater can expect in the waters of Africa, and on land coming across a herd of Cape buffalo grazing on shoreline grass can be extremely dangerous due to their "protective-at-all-costs" nature. Fortunately for my friends and me, our boats could out-run (in water) the hippos and the Cape buffalo do not move into the water when they charge.
I flew into Durban, South Africa to check out the tigerfish in Lake Jozini with Hayne Clark, who guides on those waters and also works for
AquaQuad boats. The tigerfish species in the lake were the small species (under 8 pounds), not the famous "goliath" tigerfish of the now -dangerous central Africa country Zambia. They were lots of fun and had the most prominent dentures I've seen (excluding the two canines of the payara).
The notorious tigerfish are endemic to Jozini and the furthest south in their African range. What is fantastic about this trip is that the lake is in the Phongolo Wildlife Reserve and our short trips each morning and afternoon to the lake passed by about 15 species of wild game. Giraffes were always curious when we slowly motored by. Herds of impalas seemed to block our road daily and they played with zebra in many locations.
Wart hogs and bush pigs were in the scrub everywhere. Water buck and reed buck deer as well as wildebeest and monkeys were throughout the reserve's scattered forest and along the lakeshore.
Other animals and birds were all over the lake's shoreline. On each of our half day trips on Jozini, between one and eight rhinos would be cavorting in the mud at the edge of the water just a few hundred yards from our launch site. Ostrich, Egyptian geese, hornbill hawks, guinea fowl and fish eagles enjoyed the waterfront, and so did the freshwater crocodiles. We marveled at the sights and enjoyed our tigerfishing backdrop.
We each used one of the great AquaQuad CLXs to safely navigate and fish Lake Jozini. The one -man, pontoon-type boats with forward casting platforms to fish from are designed for stability,
fishing and fun on the water. For more info on these, visit www.aquaquad.com or email usa@aquaquad.com.
While tigerfish have the dentures to destroy lures, baits or hands if you get them too close, we employed wire leaders on our artificial lures and cut bait and were successful. We caught several fish up to 6 pounds. They ate chunks of frozen pilchards ("sardines") fished on the lake's bottom along a rocky shoreline. We also caught tiger fish on soft-plastic paddletail minnow baits, lipped crank baits and topwater plugs from several locations.
Our crew motored into coves and through channels staying away from the stumps and rock piles that were scattered around Jozini's shallows. We fished around an old submerged village on the lake bottom that was just discovered recently during very low water levels. We didn't have one of the 50-fish days that Hayne had described as "very possible" nor did we catch any giants, but we did get really charged up by the wild game viewing!
Editor's Note: For more information, contact Hayne Clark of Clark & Crow African Angling Adventures at phone +27 083 393 8277 or email him at hc@aquaquad.com.