St. John Skies, Depths and Mountains
Water activities may start 100 feet below the surface or 300 feet in the air in this beautiful tropical paradise!
Like the TV commercial, I was startled when the parasail thrust me skyward from my comfortable position on the fantail platform at the boat's stern. And, like the commercial, I was soon swept up in my bird's eye view of the beautiful scenery of the St. Johns waterscape and its cays, tranquil bays and low mountains. It could not have been more quiet and serene.
There was so much to see, and so much to enjoy that my parasail partner and I just couldn't get enough as the seemingly tiny boat 600 feet below towed us around the large bay. After a few minutes, the boat driver began toying with us by slowing down the speed, which caused the parasail to drift slowly towards the water. Just as our toes touched the surface, he sped away and our parasail lifted up again. The usual screams, of course, ensued. The short experience was over too quickly.
Our boat was full of people waiting their turns to go up; the boat holds up to 8 who want to participate in the parasailing activity. Even with a full boat, the typical experience goes smoothly. Two people at a time are prepared with safety harness and life vest and walked to the large rear platform where the parachute awaits. After being hooked to the chute, an electric wench then allows the rope to unwind and the wind helps hoist us slowly into the air. Soon we were "floating" hundreds of feet above the water.
Caribbean Water Sports runs operations in both St. Thomas and St. John, and their well-designed and equipped boats are excellent for novice parasailers like me. Parasailing is very popular in the Virgin Islands, and after trying it for the first time, I found it to be an experience that I definitely would enjoy again!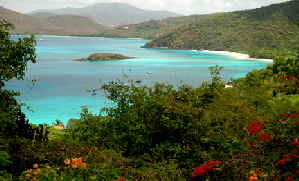 We were enjoying our time on and around St. John and since the cruise ships and planes all call on St. Thomas, it is easy to overlook. But, you shouldn't. Anyone visiting St. Thomas should take a day or three if possible to visit nearby St. John. Even if you are just stopping for a 10 or 12 hours in St. Thomas, you'll find that the ferries run continuously over to unspoiled St. John. In just 20 minutes, you can step from a bustling shopping district at Charlotte Amalie onto a pier at the small, colorful and secluded "town" of Cruz Bay.
Visitors to the smallest of the three U.S.Virgin Islands arrive at the main pier, and many new shops and restaurants have been recently completed just steps away. An excellent restaurant that we enjoyed is called Lime Inn and is located at the Lemon Tree Mall in the heart of Cruz Bay. This open-air restaurant features grilled lobster in a variety of sizes - from 1 pound to more than 3 pounds - and they are truly tasty. You order the lobster by size in half pound increments, and fortunately, they were out of the smaller one that I tried to order initially!
I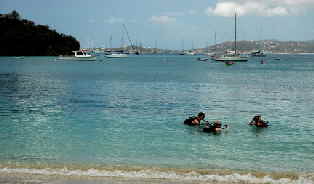 nstead of renting a vehicle to drive around the island, we would recommend another option. The curved roads and steep cliffsides, plus driving on the opposite side of the road, can create confusion for some visiting drivers. Plus, worrying about driving carefully can diminish the enjoyment of viewing the island's beautiful scenery. Visitors can enjoy looking at the vistas by simply hiring a taxi. Many are available right at the pier, and they are ready to take you on an island tour or to a specific accommodation or restaurant.
If you decide on a private tour you can probably negotiate a rate with the driver, otherwise, one way rates from Cruz Bay to various locations range from $4 to $11 per person. Along the way, most drivers are truly fun and can give an informative historical perspective to the breathtaking island.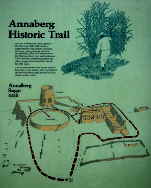 As with most of the Caribbean, St. John was once home to many sugar cane plantations. The ruins of many are still easily visible throughout the island and are worth a visit. The Annaberg Historic Sugar Mill Ruins are perhaps the most easily accessible. The mortar between the stones of the buildings are made of flour, molasses and seashells! And don't be surprised to see some iguanas!
Two thirds of the island landmass (7,000 acres) and an expansive shallow-water reserve area encompassing many acres of underwater reefs and sand is a natural sanctuary - the Virgin Islands National Park. Even remote cabins on St. John are booked months in advance, and it's no wonder. Most are perched on a hill overlooking beautiful Cinnamon Bay or Maho Bay. The Park's visitor's center has information on its 22 hiking trails and scheduled guided walks, snorkel trips and other activities. An archeology lab open on weekends is a great educational program for visitors of all ages. A former greathouse - the Elaine Iona Sprauve Library and Museum - has artifacts from Colonial days as well as information on the original Danish settlers.
Waterside, there are plenty of other activities. Whether boating on the surface (renting a small dingy), experiencing the reefs and sights underwater (snorkeling, SCUBA or trying Snuba), or floating above the water (parasailing), St. John offers visitors plenty of watersports possibilities.
Renting a dingy or small sailboat is definitely a good way to explore the island coast on your own, if you are experienced and comfortable doing so. You should be able to see part of the island shore that no other land-based visitors can view, because there is no road that goes all around the island. By carefully following the well-marked boating lanes, you can visit numerous beautiful bays around the island and select a favorite spot to enjoy a secluded picnic. Having your own boat also gives you the independence to come and go as you please and even to explore the smaller islands just off the shore of St. John.
If you only have one day available for St. Johns, then a quick ferry ride, lunch and island tour will whet your appetite. If you can spend a few nights, we highly recommend the beautiful Westin Resort, which offers excellent accommodations and amenities.
For More Information
For U.S.V.I. tourism information and vacation planning on the island of St. John, visit their website at www.usvitourism.vi or call the U.S.V.I. Tourist Board at 1-800-372-USVI (8784).