I found many ways to get into trouble here, but the beautiful course is now one of my favorites in the Caribbean. The course has 125 irrigated acres of lush grass allowing golfers to play two full holes on the Caribbean Sea and three complete holes on the Atlantic.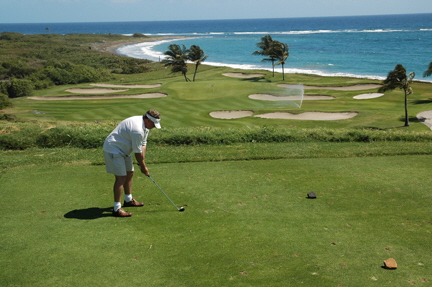 It was originally opened in 1976 and underwent renovation from the spring of 2002 through the summer of 2004. The first 9 holes and the beautiful new "private country club" style clubhouse opened for play in November 2003. Today, the Royal St. Kitts Golf Club course is one of the best conditioned and most scenic in the islands, and with Marriott Golf Management at the helm, golfers can expect the excellent course conditions and customer service to continue.
The course plays as an 18-hole, Par 71 course at 6,900 yards from the back tees and 5,959 yards from the white tees where I started. It has five par 3's, wide fairways and large putting greens, but it is very challenging even to a scratch golfer like my fellow competitor, the club pro. It seems he is reportedly the only one who consistently shoots below par on this layout.
The Royal St. Kitts Golf Club is located just a quarter-mile north of the St. Kitts Marriott Resort on Frigate Bay Rd. Transportation is available from the resort to the Golf Course by the bell staff. If driving a rental car, take a right out of the resort parking lot and follow Frigate Bay Rd until you see the clubhouse on your left.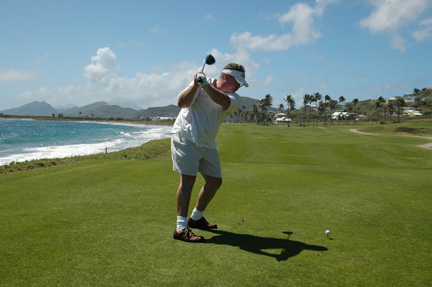 The St. Kitts Marriott Resort & Royal Beach Casino offers great accommodations spread over a 26-acre paradise of sun-drenched landscaping plus a pristine beach. It has spacious, luxury guest rooms that are trimmed with West Indian accents. That same Caribbean flavor sets the tone in 8 restaurants and 3 lounges. For those who enjoy games of chance, the resort offers the 35,000 sq ft Royal Beach Casino. Their 15,000 square feet Emerald Mist Spa, includes men's and women's saunas, hot and cold tubs, and relaxation lounges that will sooth you after the challenging golf.
For More Information on the great golf, email info@royalstkittsgolfclub.com or call toll free 1-866-STK-GOLF. For info on the St. Kitts Marriott Resort & The Royal Beach Casino, phone 1-869-466-1200.