St. Lucia - Island Hiking In The Caribbean
By Larry Larsen (c)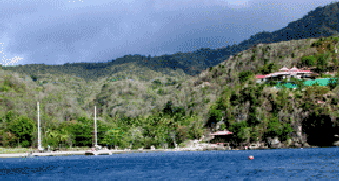 For energetic travelers who can't sit still on the beach, St Lucia's rugged terrain and scenic trails beckon. It is perhaps the best soft adventure destination in the Caribbean. Called the Emerald Isle for its majestic mountains, lush rainforest and secluded waterfalls, the island offers adventurers the Caribbean's highest peaks to climb. Exploring St. Lucia on foot is a healthy way to relax and appreciate the island's natural wonder.
St. Lucia is only 238 square miles, just 27 miles long and 14 miles wide at its widest point, but a variety of trails lead hikers through the rainforest, to St. Lucia's mountains peaks, through old plantation grounds, past waterfalls, along beaches, to Cactus Valley and even around Pigeon Island.
Want exercise? The twin volcanic cones, Petit Piton and Gros Piton, on the island's southwest coast just south of Soufrière present a formidable challenge for even the most experienced hikers. Rising 2,460 feet and 2,619 feet respectively from the ocean, they have become the symbols of St. Lucia. Formed of lava and rock, and once actively volcanic, they are now covered in green vegetation. Hiking is only recommended on Gros Piton, which offers a steep but safe trail to the top. Tourists are permitted to hike Petit Piton but should be aware the second half of the hike requires rock climbing and safety equipment is not provided.
Deep in the mountainous interior, almost 1,800 feet above sea level, lies 19,000 acres of rainforest and 29 miles of trails appealing to all levels of hikers. The rainforest is located in the center of the island and can be entered through various points on the east and west side of the island. The Barre de L'isle Forest Reserve divides the eastern and western halves of St. Lucia and provides panoramic views from four lookout points along the trail. The Forestiere Tropical Forest Trail tour takes hikers into the heart of the island's countryside and through a dense forest.
The Enbas Saut Falls is a diverse 2.5-mile trail through rainforest, cloud forest and elfin woodlands. Enbas Saut means "below the falls," and hikers can cool off under two cascading waterfalls and pools along the trail. Two strenuous treks are the Des Cartiers Rainforest and the Edmund Forest Reserve on the western end of the island. The later hike is filled with rare flora and fauna including bromeliads, orchids, mushrooms, lianas and others, and the western part of the trail offers magnificent views of Mount Gimie, St. Lucia's tallest peak.
South of Soufrière at Sulfur Springs, one of the world's few drive-in volcanoes allows guests to experience the sites and scents of bubbling mud, hissing steam and craters seething with sulfur. Diamond Waterfall and Mineral Baths, located in the southwest region of St. Lucia, comes down in six stages through sulfur springs that change the water's color - purple, green and yellow. Adjacent are mineral baths built among the ruins of an 18th-century structure commissioned by Louis XIV.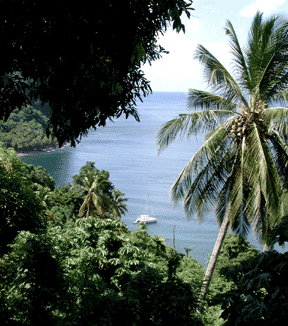 The Maria Islands, east of Vieux Fort on St. Lucia's southern tip, are home to an abundance of species of plants, birds, lizards and snakes believed to be extinct elsewhere in the world. The Fregate Islands, a cluster of rocks off the eastern shore, are barren except for tall grasses. They are named for the scissor-tailed frigate birds that breed there. Once a pirate hideout and military base, Pigeon Island is a 40-acre islet that has been restored and designated a National Landmark.
Adventurous sorts can also go jungle biking at the Caribbean's only jungle biking facility, which is located adjacent to the Anse Chastanet Resort on Anse Mamin, one of St. Lucia's oldest plantations. The manicured trails of Bike St. Lucia's Jungle Biking Adventure (758 -451-BIKE) weave through the plantation grounds, deep into the tropical jungle. Custom trails were designed to accommodate both the first-time and experienced riders. Just remember that the island's rainy season is from June through November.
Relaxation After The Exercise
Adventurers that climb, hike or stroll through the jungle can look forward to respite at a variety of luxury accommodations where natural surroundings and rich character of the destination are integrated. St. Lucia blends authentic Caribbean style and hospitality with world-class resorts and spas, top-rated restaurants, and golf. All accommodations are situated along the serene Caribbean coast. They include some architectural marvels, suites with only three walls that provide an unobstructed view of the sea or Piton Mountains.
The St. Lucia elegant resorts in the south end of the island near Soufriere in which I've stayed include Anse Chastanet, the Jalousie Hilton and Ladera. Anse Chastanet is recognized as one of the most romantic resorts in the world, for good reason. The tranquil hotel offers 49 rooms that overlook the Caribbean Sea and the Piton Mountains. Rooms are distinctly different with handmade furniture and fabrics as well as original artwork. Some have just three walls. There are two restaurants and bars at Anse Chastanet. The Piton Restaurant on the hillside serves breakfast daily and a five-course dinner five nights a week. The beachfront Trou au Diable Restaurant and Piton Bar serves lunch daily and dinner two nights a week. For more info, phone 758-459-7000 or visit www.ansechastanet.com.

Located near the charming fishing village of Soufriere, the Jalousie Hilton Resort & Spa offers one of the most dramatic and picturesque settings in the Caribbean. Nestled on its own private bay between the Piton Mountains, this 325-acre beachfront resort is frequented by celebrities. Many of the resort's 100 stylishly decorated villas and villa suites provide private plunge pools and patios. Surrounded by tropical gardens, this serene resort offers many activities for those who love to relax and those who like to play. A world-class spa, tennis courts, a pool, a fitness center, putting green, hiking trail and water sports facilities are on the premises.

The Jalousie features four dining venues located bay-, pool- and beach-side, and in the Great House. Cocktails, against a backdrop of the magnificent Jalousie Bay sunset, are served in The Great Room and The Palm Court. Helicopters can land at the on-site helipad making airport transfers or aerial island tours easily accessible. Reservations may be made by calling Jalousie's toll free number at 800-744-5256 or by e-mail at jhrsales@jalousie-hilton.com. Visit the Jalousie Resort web page at www.jalousie-hilton.com.

A few years ago, I stayed at the beautiful Ladera Resort. Perched 1,100 feet above the sea on the hillside between the two Piton Mountains, each of the six villas and 18 suites has an open wall to expose incredible views of the Pitons while maintaining guests' privacy. Rooms are furnished with exquisite antiques and handmade crafts including impressive four-poster beds and delicate conch-shell faucets. Many suites include waterfalls leading to a private plunge pool and private garden. Ladera is home to the award-winning Dasheene restaurant. For more info, phone 1-800-738-4752, or visit www.ladera-stlucia.com)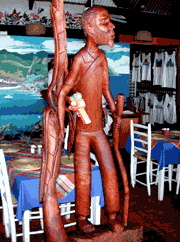 I've also stayed at one of St. Lucia's nicest resorts on the north end of the island, near Castries. Windjammer Landing is a family-friendly resort offering guests will find sandy beaches, three swimming pools, five restaurants, floodlit tennis courts, a fitness center, a market, the Serenity Spa, and plenty of land and water sports. The resort's brick paths wander through the lush hills linking the Mediterranean-style villas and main facilities. The secluded, white-stucco villas feature private sun terraces surrounded by trees and flowering bushes. For more information contact Windjammer Landing toll free at 1-800-958-7376, or log on to www.windjammer-landing.com.
While soaking up the beauty of St. Lucia on foot, visitors can also enjoy a round of golf at the Sandals St. Lucia Golf Resort & Spa, a 9-hole course with something for the novice and the professionals alike. Many holes are scenic and several very challenging, so that golfers of all skill levels can enjoy their round. The resort provides golf cart and club rental as well as a pro-shop. For more information, contact 758-452-3081 or visit www.sandals.com.
Hiking/Tourism Contacts: Hiking either Piton requires the permission of the Forest and Lands Department (Phone: 758-450-2078) and the company of a knowledgeable guide. Early morning tours can be arranged daily with your hotel concierge, or by calling the Piton's Tour Guide Association at 758-459-9748. For more information on this beautiful island, contact the St. Lucia Tourist Board at 758 -452-4094. Click if you want help with lodging or flights.