St. Thomas - Still A Great Tropical Get-Away
Unlimited Sun, Sand and Sea Activities for the Senses!
Give me a "painkiller"! No, not something for a headache, I'm asking for the popular drink that you can find at nearly every watering hole in the U.S.V.I!
And no matter which watering hole you are enjoying, you just can't go wrong when selecting the U.S.Virgin Islands for a Caribbean getaway. Over the past few years, the islands have successfully recuperated from a series of hurricanes, resulting in many hotels and resorts and nightlife establishments being totally renovated. We recently had the opportunity to try a few "painkillers" while exploring "America's back yard" up close and personal.
Even though each of the three major islands has its own personality and will suit nearly every "taste" for the family, St. Thomas has the most going on. Whether by air or by sea, it continues to be the most popular for those who want shopping and nightlife as well as sparkling waters and beautiful beaches. It's the duty-free shopping that has spurred most of the island's growth.
Original Danish colonial warehouses have been restored into charming restaurants, boutiques and shops throughout Charlotte Amalie's Waterfront and Main Street. Here you will see the same haute couture brands of clothing and jewelry you might find in New York or Rome. The prices, though, are a substantial discount. If international name brands are not your preference, many local shops also have interesting artwork and beautifully carved crafts at very reasonable prices.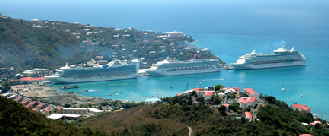 Dining out is part of a wonderful experience in St. Thomas. Take the new Skyride to Paradise Point, which can provide a full evening of entertainment, including a spectacular sunset viewing. The Skyride is the only cable car ride in the Caribbean, and after a short, quiet 7-minute trip 700 vertical feet up the mountain, you step off onto an observation deck with a restaurant, bar, bandstand and gift shops and the spectacular panoramic view of the Charlotte Amalie harbor and red-roofed hillsides. The comfortable restaurant has a wide selection of frozen drinks and a large wine list, and it's a perfect spot to dine under the stars as you listen to their talented band.
If you visit Paradise Point during the day, you can also take a walk on a scenic nature trail. This quarter-mile self-guided trail rises about 100 feet above the observation deck and includes a series of scenic overlooks that offers another perspective to the surrounding islands. There's also a specially designed wedding gazebo, popular with locals and visitors who want a truly unique setting for that special occasion.
Another excellent restaurant in St. Thomas includes the classy Agave Terrace, overlooking the harbor and offering seafood choices with a Latin flair. A more informal environment can be enjoyed at Bonnie's by the Sea at the Elysian Resort. You can arrive by land, but if you arrive by sea as we did, you can kick off your shoes (if you are wearing any, that is) and take a moonlight walk on the white sand beach after dinner.
Walk Among the Coral Reefs
Many visitors will enjoy strolling around Coral World, a very unique 4.5 acre Ocean Park and Undersea Observatory just 20 minutes by car from downtown Charlotte Amalie. The attraction pumps unfiltered sea water into the large aquariums, providing the fish and coral reefs with a continuous supply of fresh nutrients. Here, endangered sea turtles are raised and studied with the goal of releasing them into the wild. The touch pools include large starfish, sand dollars and stingrays as well as juvenile sharks , among other creatures. Mangrove Lagoon and Caribbean Reef Encounter are all excellent showcases of the islands' underwater environment. The latter hosts interesting sleepover parties for children.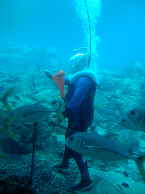 Most visitors don't realize the Undersea Observatory at Coral World is a 3-story tower, because the two lower levels are under water. The top level has an observation deck with a panoramic view of the coast and the shoreline. The mid level is a 50,000 gallon circular reef tank, home to sharks, tarpon, barracuda and moray eels. The bottom level is a 360-degree viewing area through 24 windows looking at the red, yellow and orange sponges and the violet sea fans waving in the open sea along the reef. Here, any underwater creature can make an unscheduled appearance.
The lower level of the observatory is also a viewing spot to observe some Sea Trekkin'. Perhaps the most unique aspect of the attraction, Sea Trekkin' utilizes the latest technology in helmet diving. Suitable for anyone who knows how to swim, a guide leads up to eight sea trekkers along a marked trail on the sea floor near the undersea observatory. The futuristic helmet provides trekkers with the air, weight and stability to walk underwater and allows both head and hair to stay completely dry. You'll see countless citizens of the sea here and experience the open-water reef environment up close, without having to snorkel on the surface or be certified for scuba diving!
Navigate the Waters

Perhaps the most comfortable and safe method of really enjoying the St. Thomas and nearby St. John is by chartering a yacht, which is what we did for a few days. Since we are not experienced sailors, we preferred a boat which included captain and crew (especially a cook). This leaves us to basically enjoy the boat and the activities without worry.

The Virgin Islands Charter League offers a list of boats which must meet certain standards of insurance, licensing, safety, experience, training, and general professionalism in order to become a VICL member. The list includes boats available with or without crew, for daily or weekly charter. VICL will also provide a list of charter booking agents who are experienced in matching you to the best boat, itinerary and budget.

Biking the Bunkers

Another interesting activity to do while in St. Thomas is bicycling nearby Water Island. Located just across the harbor from Charlotte Amalie, Water Island was home to a military installation during WWII. Today, visitors can still see the underground bunkers and the massive gun emplacements. On a clear day, you can see Puerto Rico a mere 20 miles away, but unfortunately on our visit, strong winds had kicked up the sea spray to create a haze. You can quickly reach Water Island from a small ferry which runs from the downtown docks each hour.

We would highly recommend working with an experienced booking agent who has personally inspected the boats and more importantly, talked to the crews, because the choices are varied! Prices vary from several thousand up to an ultimate luxury charter renting for $25,000 or more per week. The difference in price is dependent on the number of guest staterooms, staff, amenities, etc. and can be as great as the difference in the quality of the boats and the itineraries possible.

Regardless of your "tastes" for Caribbean activities and whether you have a couple of days or two weeks, St. Thomas is sure to please your appetite!

For More Information

Five major airlines offer non stop service from the U.S. mainland to St. Thomas and St. Croix. Some schedules are seasonal between November and April; others are year round. For general U.S.V.I. information, check out their website: www .usvitourism.vi. For VICL charter information, visit their website at http://www.vicl.org and go to www.coralworldvi.com for information on Coral World.