Provo Paradise
by Larry Larsen
We had visited Providenciales in the Turks & Caicos Islands in 1986 when virtually the only nice accommodations were at the Club Med Turquoise Resort. We thoroughly enjoyed the all-inclusive aspect of the Club Med facility since there were few "outside" options for restaurants and activities, and the island infrastructure was adequate at best. We vowed that we would return to the island again someday to explore the surroundings more thoroughly.
Well, 20 years later, we did! And we found out that the world has now finally discovered "Provo", as the most developed island in the Turks & Caicos is called! What was once a fairly desolate, undeveloped island has now become the Caribbean mecca for couples and families seeking upscale condominium resort accommodations. Ocean Club Resorts is a perfect example of the quality that most visitors can expect when staying at Provo.
Accommodations
Ocean Club Resorts is made up of two all-suite luxury beachfront properties on beautiful Grace Bay Beach. Guests can stay at either Ocean Club or Ocean Club West and enjoy the amenities of both by simply presenting their guest ID card. Guests can walk the beach between the two or take complimentary resort transportation.
Accommodations have views of the ocean or the beautifully landscaped gardens. Peace and serenity are guaranteed. Both Ocean Club and Ocean West offer freshwater pools, poolside barbecues where guests can cook their own meals, tennis courts, fitness room and, of course, 12 miles of beach.
You won't be searching for a space to store your suitcase in a tiny room here. Both properties have spacious condominium units of varying sizes, offering a living area with sleeper sofa, dining area, fully equipped kitchen, washer/dryer, master bedroom and 1 ½ baths. The units also offer satellite TV in the living room and bedroom, and many of the units have VCR and/or DVD players. Some units even have a selection of movie cassettes, and the reception area has a large library of free movies.
Whether you are a couple traveling on your own, or a family with children of varying ages, Ocean Club Resorts offers what you are looking for. The resort schedules a visit to the nearby convenience store so that you can stock up on essentials for the kitchen. Meals are not included in the rates, therefore, the flexibility of having breakfast and/or quick lunch in the condo unit is a plus, especially since daily maid service is included. Dining out is reserved for night time!
A computer room lies off the main front desk area in the Reception/Office building. It allows visitors free use including access to the internet…but who wants to do that when the beach is calling? If the serenity of the environment isn't enough to calm your mind and body, then make a reservation for a massage. You have your choice: Swedish, deep-tissue, facial, pedicure, aroma therapy or several other offerings. It is truly a fast-track to total relaxation.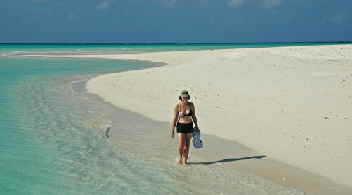 Activities/Entertainment
The Turks and Caicos government is closely controlling the development of Provo. They have allowed the many new condominium properties to be built as investment opportunities rather than approve plans of hotel chains that want to open properties on the island. Most owners, however, place their units in the "rental pool" for most of the year and that provides the typical accommodations by most properties on the island. When staying in condos, guests may have to look around the island for some of their favorite activities and entertainment, so renting a car might be a good option if you plan to stay more than 3 or 4 nights.
At Ocean Club Resorts, many activities can be arranged for you. Whether it's fishing from nearby Leeward Marina, scheduling a snorkeling trip, booking a round of golf, or a myriad of watersports such as kayaking, sailing or windsurfing, the island boasts plenty of choices to keep you busy.
There are no major attractions on Provo, but there are some interesting sights that are of interest to many visitors. For example, the Conch Farm - the only one in existence in the world - offers a short but interesting guided visit of the facility. The "farm" that grows the popular conch opened in 1984 and much of the meat is exported to the U.S.
If you don't rent a car, one interesting use of your time is to hire a taxi driver to take you around the island on a half-day sightseeing tour. Visit a variety of beaches off the beaten path and view the interesting bays and saltwater lakes. Some of the homes built on the west side of the island just beyond the commercial port are truly magnificent and unique. On our trip, we also found the highest point in Provo and were able to get a spectacular 160-degree view of the entire island. We are certain most visitors don't have this opportunity, but it's well worth it.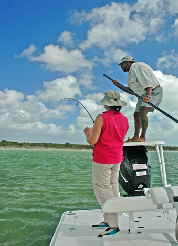 Ocean Club Resorts offer a variety of Provo fishing opportunities out of their two properties. We went bonefishing with Edward Missick, owner of Catch the Wave charters (catchthewave@tciway.tc). Missick, a native of Provo, has been a guide for nearly 10 years. Our day of bonefishing was tough. We skirted numerous thunder storms and had to deal with 30-mile per hour winds and associated white caps. But the captain's persistence paid off… we both caught decent fish and thoroughly enjoyed the shortened day on the water.
Placing your footprints on a beach that has not had others recently is a great way to enjoy the ambiance of the nearby islands and cays. We enjoyed our day-long snorkeling trip on a 70-foot sailboat to a secluded spit of sand called Fort George. While snorkeling areas there were minimal, the beautiful beach, the excellent food catered on board by the Ocean Club Resort kitchens and the scenic islands along the way certainly were enjoyable.
Dining out is a must for entertainment for guests of Ocean Club Resorts. Whether you enjoy dinner at Ocean Club West's Gecko Grille, or outdoor dining at the scenic Coco Bistro nearby, a couple of our favorites, eating out is certainly part of the enjoyment of staying in Provo. Other nice restaurants with a variety of dishes are nearby, only a short drive away. High (or busy) season on Provo is between December and April; low season is typically the summer months. Ocean Club properties offer a variety of seasonal packages for your budget. Provo is certainly not an inexpensive destination; in fact, it is more expensive than many Caribbean islands we have visited. But you do get what you pay for, and the value at Ocean Club, in particular, is well worth it.
Provo is located just 80 minutes from Miami. Several direct flights are scheduled, some in-season, from Miami, Boston, New York and the Carolinas. For more information on Ocean Club Resorts in the Turks & Caicos Islands or their various packages, contact oceanclb@tciway.tc, phone 649-946-5880 or visit their website at www.oceanclubresorts.com.