Venice, Italy - It's on Everyone's Bucket List
By Larry Larsen
Is Venice sinking or is the ocean rising? We don't know; there are conflicting stories even in Italy. But w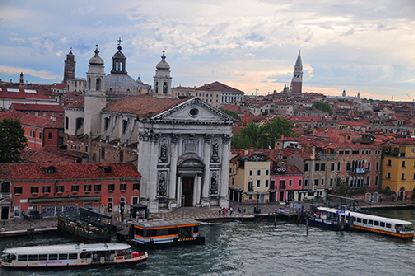 hat we do know is that this Italian city at the northern most end of the Adriatic Sea has held a fascination for many people throughout history, and it's easy to see why. The entire city spread over 118 islands is a World Heritage site.
Our overnight flight left Orlando in the early evening and connected through Frankfurt, Germany. Upon arrival in Venice, we quickly cleared customs and immigration. Although there was some construction/expansion going on at the airport, we found the local transportation (OCTV) counter very quickly and easily purchased our bus ticket to the city center. After a 10 min drive over a causeway, we were dropped off at Piazzale (Plaza) Roma, a central location for many hotels near the train station and the cruise port.
Thank goodness we had planned ahead and brought only two small suitcases that we could easily roll over the bridges to our hotel, about a 10 minute walk away. We saw several people struggling with their luggage on some of the steps, although there are numerous luggage handlers who are available at the highest bridges to cart your suitcases to your hotel.
Hotel Amadeus was very nice and perfectly located for our two pre-cruise nights in Venice. There are tons of restaurants and shops around it. Conveniently, it included a nice breakfast buffet. Although many places along the cobblestone streets do accept credit cards, other smaller establishments may not, especially just for a bottle of water. Water taxis, street taxis on the mainland, or tickets for the people mover (monorail) adjacent to cruise port usually also deal in cash. For that reason, we recommend getting some Euros for the duration of your visit to this side of the world.
Expect to get lost in Venice, even if you are good at reading the maps commonly available. When we were there, there was a 24-hour strike by the union members operating the water buses, gondolas and land tours, so we had no choice but to walk the streets some and kill time to try getting over our jetlag. We explored the narrow streets and walking paths from the hotel all the way to San Polo. You can easily tell a local from a tourist – the locals know where they are going and they do so with a purpose. The tourists are constantly checking maps! As if that would help!
We spent only one full day prior to our cruise, but when we returned to Venice, the ship overnighted at the cruise ship port dock giving us another full day and a chance for us to join a tour. We elected the "Murano Glassworks, St Giorgio and Gondola Ride" tour. Our guide was excellent, giving a thorough overview of the history of this ancient city and giving us a great foundation of knowledge.
During the 18th century, Venice became the most elegant and refined city in Europe,
with a strong influence in its art, architecture and literature. Our Gondola ride was shared by two other couples, and the gondolier took us through some of the much smaller canals where the perspective from the water seemed totally different than what we felt while walking through the narrow city streets.
In the 20th century, many artesian wells were dug on island lands surrounding the lagoon in order to draw water for growing industry. Soon, the extraction of the fresh water from the aquifer caused the muddy ground to sink, and artesian wells were banned in the 1960s. Venice is still threatened by more frequent low-level floods (called Acqua alta, "high water") regularly following certain tides.
We saw many old houses whose doors and staircases originally used to unload goods were now flooded,
making the ground floors uninhabitable. In other areas erosion of the brick work marked by crumbling and cement repairs were in evidence. Most of the many churches we walked by in Venice were in good shape maintenance-wise. Most impressive, and often overlooked because of St. Marks, were the St. Giorgio Basilica, the Redentore, and the Jesuit.
Another interesting place that we visited is home to the country's famous glassblowers. The reknown Murano glass works of Italy are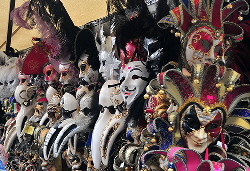 actually named after the nearby island of Murano. In fact, the series of small islands known as Murano is where all the glass factories in that region are located. The craftsman and their furnaces were relocated there over 800 years ago from the main island of Venice to avoid disasters in case of fire.
Now, whether you purchase a glass item from a high-end shop or a corner store in Venice, it's all Murano glass. Our port tour showcased a glass blowing demonstration and then, of course, included a visit to the sales showrooms. The first few sales salons offered primarily the higher priced items, but eventually we found a showroom featuring the "sale" items and managed to purchase two pretty glass figurines for E50 dollars. Luckily, they survived the flight home!