Alaska's Wild Willow River Wading
By Larry Larsen
The strike indicator paused in the current and then dipped when the fish sucked in my artificial salmon egg. I again set the hook into a fat rainbow. Guide Jake Williams moved into the stream as I again backed toward the shallow bar with 10-foot long fly rod held high and bouncing. The 18-inch
long rainbow leaped skyward three times as I battled him closer on the 5 weight rod. I slid the big 'bow into my guide's waiting net and he kneeled to remove the fly hook.
The fish was my fifth strike in about twice as many fly presentations and the hole was definitely producing. Three other anglers fishing the same small river inched closer with each strike. The fall weather was cool and the early fall action, at least for me, hot. Rainbows then were eating a "ton" of eggs and salmon flesh, according to Jake.
"The rainbows gorge on that food before they move into the big rivers," he pointed out, "and they are like bears stockpiling food for the winter. They are getting fat in September because they've had all summer to eat. They start putting on some crazy weight in August. The rainbows will stay in
the big Susitna River until spring for spawning, and then they move back up in the system, filter out and hide to wait for the salmon."
"This is incredible," my guide noted, as I hook up and battle another robust 15-inch rainbow that eventually jumps off. "Even the smaller ones look like little footballs from now until the ice freezes over about mid October."
Jake has been guiding anglers all over the Mat-Su (Matanuska-Susitna Valley) area just south of Alaska's Denali National Park for over 4 years and is one of the most professional I have ever fished with. He enjoys his job. While a very good day could result in 15 or 20 trout, he believes that it's not about the number of fish but the fun that the client has in catching them.
"These are not stocked creeks, they are resident rainbow and you get what you get," he explained to me as I hooked yet another fish. "In the fall, the fish are stacked up in different channels and you may get slightly smaller rainbows because they have the energy to move around. The bigger ones will stack up where the food is going to wash down to them. They like confluence and riffle seams or the slack water off the riffle where they can pick out their forage. I prefer targeting bigger fish, rather than say 20 medium -size ones."
"My biggest rainbow, caught in the fall was 23 inches long and weighed about six pounds," Jake continued as he netted by 16 inch 'bow. "Fall fish can be very fat , and I've had them throw up eggs in my net. That's great because you see what color and size of eggs they are eating and then go looking for a rig that matches that."
He had taken me to one of his favorite clear-water spots on the tiny Willow Creek and set me up with the long rod so that I would have easier mending capabilities and be able to high stick better. The rigging was straight floating line to a tapered leader of 11 pound fluorocarbon. My bait was an 8 millimeter bead tied on to the leader with a size number 6 hook. I used a small indicator called a thingamabobber and was making 30 to 40 foot casts. On the hole I was fishing, I employed a size 1B split shot above the bead.
Willow Creek is not always easy to fish, particularly near its headwaters at Hatchers Pass near Talkeetna, according to my guide. The faster current, upper parts of the river have more boulders, tinted water and crazy class IV rapids for kayakers. Some parts still freeze over, so the rainbow will move out to the bigger waters to be in holes with more oxygen. When spring comes, the ice carves out the banks and each year the river changes, so as a guide, Jake has to find out how it has changed. In the fall, as the big Susitna River starts to drop, you can actually fish that river.
I landed 7 or 8 rainbows and also lost a like amount before the Sun rose higher in the sky and action slowed. I took a break and asked Jake about the always changing summer fishery in the Mat-Su Valley.
"At the start of spring when the rainbow trout are hungry, you can get some really good days in April and May; you just have to pay attention to the river," he says. "You can get into some pretty good fishing; the fish are not really strong because they haven't fed for a while. They feed on skulpin and for about two weeks in mid-June, the rainbows will be feeding very aggressively on salmon smelt; we caught a 24 inch male last spring in a back eddy."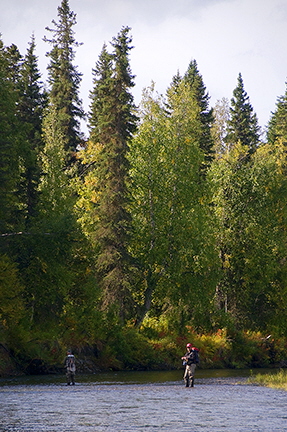 "We get chums, pinks, silvers and kings in the mountain streams," Jake explains. "When the water level gets high, the big kings (Chinooks) first come up the rivers, and for about 3 days they are dropping eggs and fishing is crazy. When they are done spawning, then there is a lull until the pinks and chums come in. The rainbows have been waiting for that so they park right behind the salmon. The salmon males will chase them off but they come back in and actively feed. "
The guide pointed out that the tributaries in the area also have grayling and Dolly Varden trout. The grayling can be caught year around, but they don't get very big - his largest was about 17 inches. The largest Dolly Varden he has taken in the area was about 12 inches long. They apparently were much more abundant a few years back.
There is always some fishing action happening in the Mat-Su Valley north of Anchorage. My day was fantastic – lots of beautiful rainbows up to almost 5 pounds in a great, peaceful setting. That's what memories are made of. For more information on where the action is, you may contact Jake Williams of Reel Fly AdventureZ at (907) 841-7220. For Mat-Su Valley general information, contact the Mat-Su Convention & Visitors Bureau at (907) 746-5000 or visit www.alaskavisit.com. For convenient accommodations in Palmer, Alaska, check out the Colony Inn or the historic Valley Hotel by phoning (907) 745-3330.