We've never seen such a variety of fish on any dive, let alone a snorkeling trip! We have snorkeled and dived in many places in the world, but the world's second largest barrier reef off the Central American country of Belize offered the most variety and largest free-swimming fish that we have ever seen in one small area. The spot with marked buoys for boats to tie up to is an open "channel" through the reef about 300 feet wide. The aquatic "bowl" is surrounded with coral walls up to 40 feet high, and the depth was no more than 60 feet right in the middle of the channel.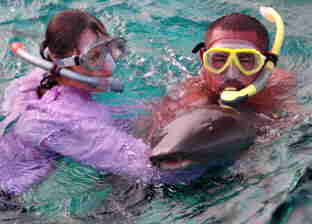 Our Cayo Espanto Resort snorkeling guide, German, guided us along the perimeter coral heads for nearly an hour, it was truly unbelievable and unexpected. Back on the boat, made a list of what we saw:
Moray eels up to four feet in length, the largest parrot fish we have ever seen (approximately 30 pounds), hordes of schools of yellow tail, half a dozen big tarpon (the largest about 70 pounds), giant fans and brain coral, schools of 200 to 400 ballyhoo (a foot-long slender fish that makes great bait for sportfishing species) and several barracuda up to 25 pounds. We also saw: Cubera snapper, blue tang, several large nurse shark, Black grouper to 40 pounds, a 20-pound Nassau Grouper, a giant 7-pound pufferfish, eagle rays with impressive 6-foot wingspans, several southern rays each with a wingspan of 5-feet or so and large jack crevalles (up to 15 pounds).
We were in awe of five giant sea turtles that moved about the ocean floor slowly, unafraid while munching on the bottom sea grasses. According to our guide, the turtles have only been coming to this spot for the past year. One even had noticeable shark teeth marks on his top and bottom carapace, so he was nicknamed "lucky" (for his timely escape). We're sure that we are forgetting to mention some of the vast aquatic life. We knew that Belize had a reputation for its underwater scenery, but our snorkeling and a later fishing trip on the reefs were a highlight!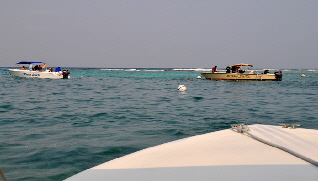 Resort Reef Offerings
We were staying on Cayo Espanto, a tiny private island off the coast of Belize, and the resort is really spectacular (see related article). It offers snorkeling trips to the protected waters of the Marine Reserve Park, Hol Chan, that occupies five square miles of Belize's 185-mile-long barrier reef. The reef itself boasts more marine life per square foot than anywhere else in the world, a claim that we totally believe.
Our guide German has been with Cayo Espanto since its development as a private island resort 10 years ago. The privacy of the small upscale resort was also evident in our snorkeling trip - we were the only two guests onboard their barrier reef snorkeling excursion, and in addition to German, our assistant houseman was along in case we needed a bottled water or a towel handed to us!
When we arrived at one of our two snorkel spots on the reef, we found half a dozen other boats already moored on the permanent anchors. Our first thought was - oh no, dozens of other bodies (perhaps spooking the marine life) and no remaining fish to see!
"Just five boats, is not typical, so we saw fewer people viewing the park," said German after we returned to the boat from our 45 minutes snorkel around the channel hole. "On weekends, we often have about 20 snorkel and dive boats in this area tied up to the moorings. But the marine life is always here."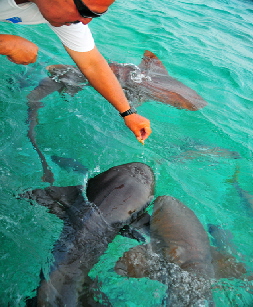 "Throughout the year, the visibility changes, and today it's a little murky but not bad," he added. "It usually clears up around November and December because the winds blow from the north and blow everything out to sea. You can normally see from one side of the channel to the other, about 300 feet wide, when the incoming tide with cleaner water is in."
More Park Grins
As we headed to our second snorkel site a little further north along the reef, we thought nothing could top what we just saw. Again, we were wrong!
The second buoy-marked spot is where most of the nurse sharks and horse-eye jacks were located, as well as a dozen or more huge and very friendly southern rays. As soon as we tied up to the mooring and jumped in the water, we could see the fish waiting under the boat, as if on cue. When our guide chummed to attract the fish, the rays virtually covered German looking for more food.
Four nurse sharks that appeared at our boat as soon as we tied up turned out to be our companions. The largest at 8 feet and the smallest about 4 feet long, they followed us almost like pets hoping for a handout. We found out that they like to be petted and have their head scratched!
In our opinion, snorkeling is the best way to view this underwater preserve, due to its shallow nature. Most of the activity is best (and easily) seen from near the surface. There are other deeper spots on Belize's Barrier Reef that divers can enjoy without the snorkelers around.
Reef Fishing in San Pedro Bay
Most guests at Cayo Espanto are not experienced fishermen, so a short trip to a nearby reef is also an excellent activity to enjoy and perhaps bring some fresh fish back to your table. Our resort guide, Joel Garcia, takes guests reef fishing about 6 times a week.
"Every guest that we get normally does this tour," he says. "They fish half a day, then dive or snorkel another day. Everyone enjoys it."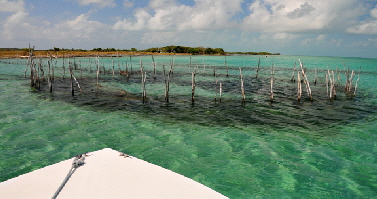 On our 1 ½ hour reef fishing excursion to an area just 5 minutes from the island, we easily caught 25 fish. They included lane snapper, mutton snapper, jacks and mangrove snapper. Every time we tossed a bait out to the dark rocky spot in 3 to 4 feet of water, we had a bite. We hooked about one-third of the fish that ate our baits.
"We're actually fishing an artificially-enhanced reef," explained Joel. "We dumped cement blocks, old truck parts and other items on small natural reefs to take the pressure off the larger natural reef system where locals often fish for food."
When the tide stopped rising, our fishing action slowed. Usually early in the morning, the tide is incoming and the fishing is better, according to our guide. We gave some of our fish to Joel and kept a few for the chef to prepare for us later that evening. The succulent fried snapper fingers were our appetizer (yum!). Both the catching and eating were definitely fun!
With such activities (and many more that we didn't have time to experience), we hope to have the opportunity of returning to Cayo Espanto and the Hol Chan Marine Reserve Park again soon! For information and reservations at Cayo Espanto, visit their website at www.aprivateisland.com or call 1-888-666-4282 or e mail info@aprivateisland.com.