We visited the island near the world's second largest barrier reef recently after arriving in Belize City on an international flight. Once there, we walked off the plane and into the domestic terminal, where several small charter services stay busy for hours after each international arrival. We were greeted by
the resort's arrival service and our paperwork was efficiently taken care of at the Tropic Air check -in desk. Just a few minutes later, we boarded a 12-passenger, twin prop plane for the short hop north over Chetumal Bay to Ambergris Cay and the town of San Pedro.
The weather was beautiful and the clear blue waters below offered a relaxing backdrop for our short ride. The town of San Pedro on Ambergris Cay is the main destination for all the puddle jumpers bringing visitors to the resorts there. Ambergris is a 25-mile-long island that is separated from Mexico by a narrow river channel at its northern border. The channel, called Bacalar Chico, was dug by ancient Mayas thousands of years ago, and even after hurricanes and man-made interference, it has remained unobstructed and the official border between Belize and Mexico.
A former British Colony, Belizians speak English and Spanish as well as their local dialect. Today, the country has just over 300,000 inhabitants and it's only 8,867 sq. miles. San Pedro was named after Saint Peter, patron saint of fishermen, and fishing remains the most common means of living in addition to jobs in the growing tourism industry. Once we landed there, we were greeted by Elio Barrera, our houseman for the next few days and escorted to a dock where we were taken by one of the resort boats to Cayo Espanto, just 10 minutes away.
A short distance from the private island, our boat slowed, and we noticed 8 staff members lined up on the dock. As we arrived, our drinks (which Elio had ordered for us from the boat while coming across the channel) and cold wash cloths for refreshing our face and hands were waiting for us. We were introduced to the chef, the assistant houseman, housekeepers, general manager, guest services manager, etc. It was a very warm welcome.
The short walk to our villa included a brief overview of the facilities and amenities. If you insist on
exercising, there is a small room with some fitness equipment, but we guess it's little used. Why walk on a treadmill when you can take any one of the several kayaks and explore around the island? There are also a couple of small two-person catamarans available. No reservations necessary.
Six villas grace this small island, but you will never see or hear anyone else due to the seclusion accorded by an abundance of tropical foliage. The staff has gone to great lengths to maintain privacy. Beautiful palm trees and other vegetation protect inquiring eyes from each other, and there is enough distance between the villas to give everyone their "space."
Our villa, named "Casa Brisas," was excellent. Beautiful French-style doors opened wide to reveal the crystal clear blue ocean, a small dock with two lounge chairs for sunning, a small "plunge" pool, beautiful king bed with an unobstructed view of the ocean, and two large showers - one outdoors overlooking the ocean. Forget air conditioning. Although available, the breeze off the bay, and several ceiling fans inside our villa, kept everything cool and very comfortable.
Shortly after arriving at our villa, the chef personally appeared with dinner suggestions for that night (see sidebar on meals). Of course, lobster is always of interest to us. Since our stay was short, only three nights, we had brought only one suitcase, but even then we had brought clothes that we didn't wear. This is the type of place where your daytime dress is a bathing suit or very comfortable shorts, no shoes are necessary. In the evening, a comfortable, very casual and cool outfit is all you need. Don't worry about bringing your jewelry or fancy shoes. You won't need them. Nobody is around to notice!

Each villa offers a different configuration and ambiance, but they are all beautiful. Ours included a super king
Dining at Cayo Espanto
(chefs Patrick Houghton and Richard Gillet)
A small sampling of what to expect…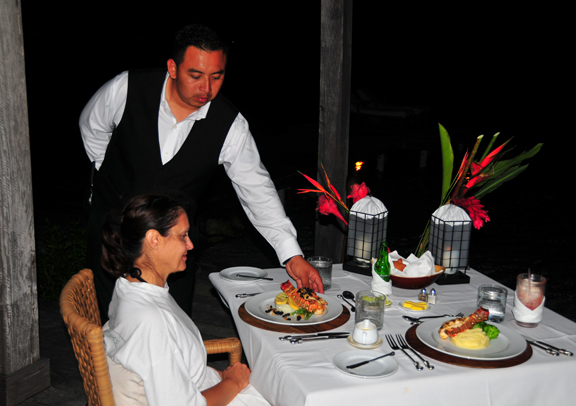 Soups
Asparagus Bisque
Wild Mushroom
Potato Leek
Tomato

Appetizers
Coconut crusted prawns with green apple raddish salad and mango chile mojo
Petite relleno pocketed with Caribbean prawns and queso blanco served with avocado salad and black bean demi
Fresh picked stone crab cakes with Caribbean chop salad and lime drizzle

Entrees
Grilled Caribbean lobster tail towering on cilantro rice pilaf with grilled crookneck squash and sauteed green beans topped with mango black bean salsa
Plantain crusted fillet of local mahi mahi bedded on coconut rice pilaf with steamed broccoli florets and grilled zucchinin polled citrus nage
Char grilled Cornish hen laced with cilantro and honey bedded on sauteed fresh spinash with herb roasted potatoes and port demi
Grilled filet of cobia nestled on cheese laced polenta with sauteed sweet peppers and caramelized Spanish onions finished with cilantro pesto and crispy leeks
Broiled tail of spiny lobster bedded on crawfish studded risotto with grilled asparagus spears and braised leeks pooled with lime burre blanc
Herb rolled pork tenderloin medallions slow roasted and served with roasted garlic crushed potato tian, grilled Portobello mushrooms and peppercorn pan sauce
Grilled filet of local grouper towering on cilantro infused couscous with grilled summer squash and sauteed carrot curls finished with mango chile mojo
Grilled white wine and garlic marinated lamb chops with roasted herb potatoes and sauteed fresh spinash finished with rosemary au just
Lobster any way you want it

Desserts
Key Lime tartlet with grilled pineapple salad (puts the Florida Key lime pie to shame)
Granny smith apple spice torte with candied pecan ice cream and bourbon creme Anglaize
Vanilla Bean souffle with citrus salad and grand mariner creme anglaize (our favorite!)

size bed with mosquito netting (in the event you leave the windows open). You can choose to sleep with the walls of doors fully closed and the air conditioning on at night, which we did the first two nights. The last night, however, we decided to leave many of the doors open and listen to the waves lapping on the beach just outside of our villa. Two large ceiling fans in the room kept us plenty cool. When was the last time you slept right beside the ocean on a super king bed?

Other amenities included a large flat-screen satellite TV and a small sitting area with couch and lounge chair. Bring your own music CDs to play on their sound system, or listen to the staff's selection. You can also bring movie DVDs if you're so inclined, but we found there was little time to watch TV.

Weeks before our arrival, we had submitted a list of our preferred beverages and those were stocked in the in-room bar. All is included during your stay (except wine and champagne). The bathroom included a large indoor shower, and top quality shampoo, conditioner and body lotion among the amenities.

At first, it may appear that there aren't enough activities on the island to stay entertained, but we found that our stay was too short to enjoy everything! We had scheduled a half-day reef fishing trip, a half day bonefishing outing and a barrier reef snorkeling trip during our stay, which are some of the resort's standard offerings (see related article). We still could have scheduled many more activities, given more time.

Besides fishing and snorkeling, the resort guest services manager can also schedule mainland tours to catch a glimpse of the interesting Mayan culture. Less than 2 hours by boat, the trip takes you on the New River to visit Lamanai and Altun Ha, each accessible on a day-tour. Lamanai means "submerged crocodile" and it's one of Belize's largest and most important Mayan ceremonial centers. Altun Ha, meaning "water of the rock," has about 13 temples. It's famous for the Jade Head, the largest carved jade object from Mayan era. This is the Belize national symbol and a must-see if you have the time.

The Cayo Espanto service was spectacular. Our houseman, Elio, was always very discreet and available via walkie talkie for anything we needed - additional ice, questions on our activities, etc. He also served us our meals in our villa and he made dining an interesting and different experience each time. Each lunch and dinner, he and the assistant houseman would position our dining table at a different location, beside the plunge pool, out on the dock, on the sandy beach, etc. On our last evening, he scheduled our dinner in another (unoccupied) villa overlooking a very large pool and beach gazebo for a change in scenery. It turned out to be where Harrison Ford had stayed!

Upon our departure, the staff was once again lined up and waiting for us on the dock to say goodbye. We were given an unexpected gift - an insulated picnic bag with sandwiches and fruit to take with us, since we weren't staying for lunch. What a nice touch! Although we visit and enjoy numerous wonderful destinations each year, Cayo Espanto has its place in our hearts and minds among our top favorites in the world. We highly recommend it!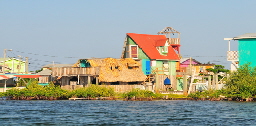 For information and reservations at Cayo Espanto, visit their website at www.aprivateisland.com or call 1-888-666-4282 or e mail info@aprivateisland.com. If you have time, be sure to stop at the colorful village of San Pedro prior to leaving. It has many interesting sights and shops.