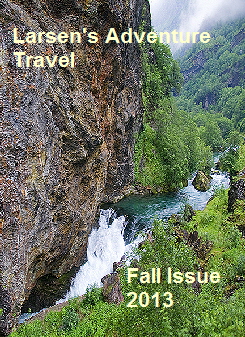 Fall Issue 2013
Note to Editors and Publishers: Content rights available for purchase; editorial/photos/assignments/consulting. Contact us for details.
Editor's Note: I visit numerous exotic destinations around the world and the true aspects of my personal experiences are covered in semi-annual issues of Larsen's Adventure Travel Magazine. Articles include outdoor activities including diving, fishing, exploring, cruising, golfing and touring exotic locations.
All rights reserved. No part of this electronic magazine, images, design or text, may be reproduced or transmitted in any form or by any means, electronic or mechanical, including photocopying, recording or by any information storage and retrieval system without permission in writing from the publisher. Larsenoutdoors.com makes no representation or warranty, express or implied, with respect to the information within. The views presented within are those of the authors.