Please Note: We are doing some site modifications.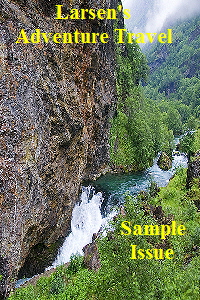 Sample Issue
Iceland's Akureyri - Say What? - The small city of Akureyri on Iceland's northern coastline is the country's second cruise ship port, but it boasts some of Iceland's... READ IT!
Iceland Adventurer - Arni Baldursson, who has signed agreements for permits to over 30 percent of the 120 salmon rivers in Iceland, is often called "Mr. Salmon". Today, ... READ IT!
Flam, Norway - Scenic Port & Tracks - Tucked way into narrow Aurlandfjord, a tributary of the 127-mile long Songnefjord, is a tiny settlement which receives nearly... READ IT!
Geirangerfjord -Â Norway's Most Scenic - You must, simply must, be awake when your cruise ship enters the mouth of the Geiranger Fjord as the sun comes up.,. READ IT!
London in a Day..or Two - So many people think of Paris as the European must -see city, but to me, London tops that list. Every time I visit, I see something new and different... READ IT!
Articles from Past Issues

through Fall Issue 2015

(Archives)
Domestic International

Golf Destinations
Articles in Fall Issue 2017 and later can be found by clicking on the appropriate Magazine Cover.